November 07, 2010 -
Dave Miller
Oregon remains at No. 1 in new USA Today coaches' poll
Oregon and Auburn retained the top two spots in the new USA Today Top 25 poll released Sunday.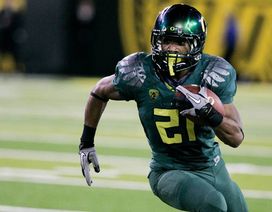 ICONLaMichael James and the Ducks remain No. 1
The Ducks pulled away for an easy victory against Washington on Saturday while the Tigers took care of Chattanooga. Chip Kelly's squad claimed 50 of 59 No. 1 votes while Gene Chizik's Tigers received four.
The big story in the coaches' rankings is TCU, which jumped Boise State and moved up to No. 3 as it did in the new AP Top 25 after the lopsided win at Utah. The Broncos dropped to fourth despite easily beating Hawaii. The Horned Frogs earned two first-place votes while Boise State held onto three No. 1 votes but still slipped a place to fourth.
The USA Today poll is one of two polls used to determine the BCS standings, which will be released later Sunday evening.
Congratulations to Central Florida, which is ranked for the first time since the program joined the FBS in 1996. The Knights made their poll debut at No. 23.
Here is a look at the complete poll.
And don't forget that the new NFP Top 25 will be posted late Monday afternoon.
USA Today Top 25 Poll
1. Oregon (9-0)
2. Auburn (10-0)
3. TCU (10-0)
4. Boise State (8-0)
5. Wisconsin (8-1)
6. LSU (8-1)
7. Ohio State (8-1)
8. Nebraska (8-1)
9. Stanford (8-1)
10. Michigan State (9-1)
11. Oklahoma State (8-1)
12. Alabama (7-2)
13. Iowa (7-2)
14. Arkansas (7-2)
15. Utah (8-1)
16. Oklahoma (7-2)
17. Virginia Tech (7-2)
18. Mississippi State (7-2)
19. Arizona (7-2)
20. Missouri (7-2)
21. Nevada (8-1)
22. South Carolina (6-3)
23. Central Florida (7-2)
24. Florida (6-3)
25. Texas A&M (6-3)
Email dave.miller@nationalfootballpost.com or follow me on Twitter at Miller_Dave