November 07, 2010 -
Dave Miller
Oregon remains No. 1 in the new BCS Standings
The new BCS Standings were released Sunday night without much change atop the rankings. Oregon, which pulled away for an easy home victory over Washington on Saturday, remained atop the rankings for the second straight week. The Ducks reached the top spot for the first time in school history last week after beating USC on the road.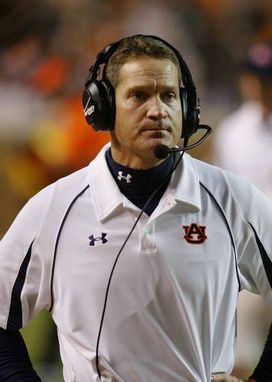 ICONAuburn head coach Gene Chizik
Auburn, which easily defeated Chattanooga this weekend, remained in the No. 2 spot. Both the Ducks and Tigers remained the top two teams in the newest AP and USA Today polls, as well.
Oregon visits California while Auburn hosts Georgia next Saturday.
TCU remained at No. 3 after its demolition of Utah in Salt Lake City. Boise State, meanwhile, remained at No. 4 after soundly beating Hawaii at home.
The BCS national championship game pits the top two in the final BCS Standings.
Here is the BCS formula — how these rankings came about: Harris Interactive Poll (1/3) + USA Today Coaches' Poll (1/3) + Computer rankings (1/3)
The BCS Standings — Top 10
1. Oregon .964
2. Auburn .961
3. TCU .926
4. Boise State .866
5. LSU .817
6. Stanford .745
7. Wisconsin .735
8. Nebraska .730
9. Ohio State .661
10. Oklahoma State .621
Email dave.miller@nationalfootballpost.com or follow me on Twitter at Miller_Dave
Some thoughts/notes:
*As touched on the last few weeks, Boise State has an uphill battle. Not only will it be difficult to gain ground in the human polls if Oregon, Auburn and TCU continue to win, but the Horned Frogs' win at Utah changed the public perception of just which non-AQ team is the best. In addition, Virginia Tech — the Broncos' Week 1 opponent — is not ranked in three of the six computers. That's unbelievable considering the Hokies have won seven in a row.
*Alabama, which fell out of the Top 10, actually saw its computer average rise to 11th — up from 15th last week — after its loss to LSU.
*Nebraska, Oklahoma State and Stanford are in a three-way tie at No. 6 in the computers. The Cornhuskers slipped one spot in the standings this week, as they now sit at No. 8. Stanford, meanwhile, sits in its highest position ever.
*Four Big Ten teams are in the top 13 of the standings. This is shaping up to be a fun race to the Rose Bowl, as well as trying to grab an at-large spot.
*LSU moved from No. 10 to No. 5 after its win over Alabama, but Les Miles' team needs Auburn to lose twice to reach the SEC title game.