May 13, 2013 -
Dave Miller
Oregon State has a good QB 'problem' on its hands
The biggest storyline that played out this spring at Oregon State was unquestionably the battle for the starting job under center between Cody Vaz and Sean Mannion, two players who could start for many FBS programs across the country.
Head coach Mike Riley has not reached a decision on who will start the season opener for the Beavers because neither signal-caller really outperformed the other thus far in the offseason. And while the old adage of "if you have two quarterbacks you have none" can be applied in certain cases, that motto does not quite fit the situation in Corvallis.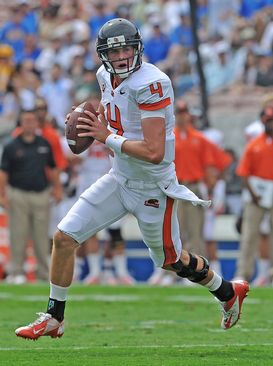 US PRESSWIRESean Mannion completed nearly 65 percent of his throws but tossed 13 interceptions in 2012.
Both Vaz and Mannion are established players who have won big games and have a good amount of starting experience. That is much different than if Riley and his offensive staff were overseeing a competition between a bunch of untested redshirt freshmen who have yet to compete in a tough Pac-12 contest on the road. Riley and Co. have the luxury of taking their time with this decision because the two veteran QBs know the offense and have already established rapport with their receivers, including Brandin Cooks.
But which signal-caller has the edge?
While both players had several bright spots in the Beavers' solid 2012 campaign, there were some rough moments as well. So Riley will go with the QB who he feels can deliver the most consistency at the position as the Beavers look to once again be a Top 25 squad.
Mannion was a big part of the team's strong start last fall, helping lead victories in the first four games before he hurt his knee against Washington State. Vaz then took over, helping the Beavers notch back-to-back wins at BYU and against Utah.
When Mannion returned, he threw four interceptions against Washington in the team's first loss of the season, and Oregon State finished 3-4 down the stretch after a 6-0 start. For the season Mannion completed nearly 65 percent of his throws for 2,446 yards with 15 touchdowns and 13 interceptions, while Vaz completed roughly 59 percent of his passes for 1,480 yards with 11 scores and just three picks.
Nothing can kill a team's momentum more than turnovers. So while many close to the Beavers program feel that Mannion may ultimately have the edge in this race, he needs to take much better care of the football if Oregon State wants to have any chance of finishing strong down the stretch, something it wasn't able to do in 2012.
This is an offense that saw great improvement along the offensive line, which returns four starters and has improved depth, features a running back in Storm Woods that could rush for 1,000 yards and has a plethora of tight ends led by Connor Hamlett that could help ease some of the concerns of replacing star receiver Markus Wheaton in the passing game.
But it all comes down to who is throwing the football on Saturdays. Whoever wins the starting job will inherit an offense that actually seems to have an identity and a sense of purpose now, which was not the case in the previous down years of Oregon State football. The expectation is that Mannion and Vaz are both ready to improve on their play from last year. And if an unfortunate injury occurs, an experienced signal-caller will be ready to step in.
And that's a good 'problem' for the Beavers to take with them into the new season.