November 24, 2010 -
Dave Miller
Oregon's LaMichael James was investigated after driving new car
Step aside, Cam Newton. You haven't been the only Heisman Trophy contender this season to be given the evil eye by the NCAA.
According to the Willamette Week, Oregon's LaMichael James was also under investigation this month by school officials and the NCAA because the running back was spotted driving a new car — a 2003 Range Rover.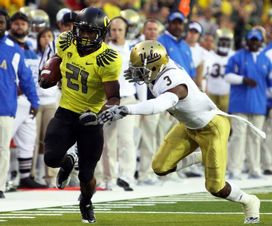 ICONLaMichael James' switch in vehicles raised eyebrows earlier this month.
Angie Cretors, NCAA assistant director for agent, gambling and amateurism activities, flew to Portland earlier this month to investigate how the 21-year-old sophomore acquired the vehicle. Cretors talked with Pernell Brown, a local gang-outreach worker who is a friend of the James family.
Per the report, Brown said the running back called him in October and said that someone was stalking him and leaving notes on his red 2000 Ford Mustang, complete with James' initials and jersey number affixed to the side window.
Brown, who previously served seven years in prison for assault with a deadly weapon, suggested trading cars with James. Brown said he bought the 2003 Range Rover this year, and records show he paid $17,238 to M&R Auto Sales in Northeast Portland. He said a finance company provided the money.
Brown said the trade with James was only temporary — intended only to protect James from a stalker. He met with Cretors and Bill Clever, the school's assistant athletic director for compliance, this month. In the report, he stated that Cretors and Clever left the meeting convinced nothing improper had occurred.
The NCAA, meanwhile, remains quiet regarding details of the investigation.
Dave Williford, a spokesman for the Oregon athletic department, said school officials believe James has already been cleared by the NCAA. "To my understanding, they think everything is fine," he said.
Email dave.miller@nationalfootballpost.com or follow me on Twitter at Miller_Dave