April 18, 2012 -
Dave Miller
Oregon's rampant pot use is no surprise
In light of the ESPN The Magazine story detailing alleged rampant pot use by Oregon football players, the university has released its drug policy in response to the piece.
According to the story, NCAA data from 2009 showed that 22.6 percent of all student-athletes admitted to marijuana use in the previous 12 months. The highest percentage was among football players, at 26.7 percent of student-athletes nationally. However, 19 current or former Oregon players and officials were interviewed in the story, and the former players estimated that 40 to 60 percent of the Ducks football team smoked marijuana. Current players interviewed for the story said that estimate "remains accurate."
Oregon's drug policy is as follows:
• There is no random drug testing, per state law.
• A third positive test makes a player ineligible for half of the season
• A fourth positive test results in a dismissal from the team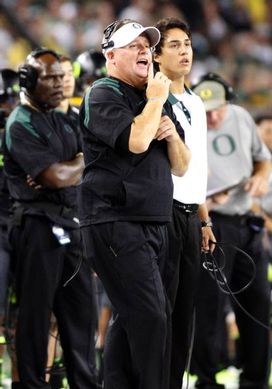 ICONOregon is at the center of an ESPN story detailing rampant drug use within its football program.
A first positive test results in counseling and education for the athlete in question, while a second positive test results in a "behavioral modification contract" being drafted. In essence, a first or second offense does not affect a player's eligibility to play.
Oregon's policy allows urinalysis testing only on suspicion of use, which does not mean intuition. An official or coach must witness "a specific event or occurrence which had led to the belief that a student-athlete has used" drugs, which "could have had effect during practice, conditioning or competition."
With the Ducks not being able to randomly drug test, that arguably helps the program recruit better than anything Willie Lyles or any other recruiting service — legal or illegal — can do. And honestly, with pot use fairly common among young athletes — and young people in general — playing football for the Ducks becomes even more attractive with such lenient policies in place.
While smoking weed isn't considered criminal by a large segment of the population, the fact is that the ESPN story exposes rampant illegal drug use in the Oregon football program and teams across the country. Despite taking into consideration the environment (Oregon has always been considered pot-friendly because of its hippie culture), it's just another issue affecting NCAA sports that won't be going away any time soon.
According to CBSSports.com's Brett McMurphy, Oregon is one of at least 17 BCS schools that require at least four positive drug tests before dismissal, according to public record requests obtained in the past two years. These schools include Virginia Tech, Illinois, Penn State, Oklahoma State, UCLA, Washington, Arkansas and Florida.
The saddest thing about the story is the fact that breaking the law is occuring on a seemingly everyday basis. While players acknowledged to ESPN that Ducks head coach Chip Kelly has enacted tougher standards on drug use, they're also doing their best to protect themselves from getting caught. And because of the university's policy, administering urinalysis testing isn't occuring too frequently.
Athletic director Rob Mullens said that his department "actively works to address potential use of any illegal substance." Obviously, not enough is being done to rectify a major problem affecting the football program — the culture in Eugene notwithstanding.
Email dave.miller@nationalfootballpost.com or follow me on Twitter at Miller_Dave