October 17, 2012 -
Dave Miller
Oregon's top recruit in the Class of 2013 decommits
Thomas Tyner, who earlier this season set a state record by rushing for 644 yards in a single game, has decommitted from Oregon.
One of the top running backs in the Class of 2013, Tyner had given his verbal pledge to the Ducks in November 2011 but decided on Tuesday evening that he wanted to weigh his options and go on visits to other schools. Oregon has a policy in place of not recognizing commitments from players who visit other schools after giving a verbal pledge.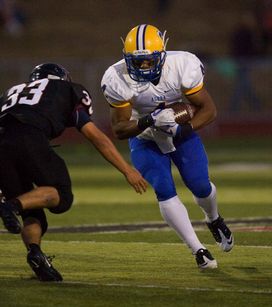 Thomas Tyner is no longer committed to in-state Oregon.
Following his decision, Tyner wrote on Twitter: "How do I know where I'm truly happy if I haven't put myself out there yet? Still love my ducks. Gotta do what I gotta do."
The 6-foot, 205-pound Aloha High School (Aloha, OR) product recorded the third-highest all-time single game rushing total after carrying the ball 38 times and scoring 10 touchdowns on his 18th birthday earlier this season. In the game, he had scoring runs of 41, 62, 60 and 65 yards in the first half alone, and he finished with an average of 16.9 yards per carry. Tyner's record night surpassed the previous state mark of 508 yards, set in 2011 by West Albany (Ore.) High back Jake LaCoste. The national high school record for rushing yards in a game belongs to John Giannantonio of Netcong, N.J., who set it in 1950. Paul McCoy of Matewan, W.Va., ran for 661 yards in 2006, according to the National High School Sports Record Book.
Tyner, who was projected to be a perfect fit for Chip Kelly's high-octane offense in Eugene, is primarily interested in meeting with Jim L. Mora and the UCLA staff.
Meanwhile, the Ducks wanted to net a third running back commitment to go along with Texas native Dontre Wilson and Tyner. Now, Kelly and Co. could be looking to gain two commits with Tyner currently out of the picture. Top Virginia tailback Derrick Green, Alvin Kamara of Georgia, Tarean Folston of Florida or Terrell Newby of California could be in play.
Email dave.miller@nationalfootballpost.com or follow me on Twitter at Miller_Dave