December 20, 2011 -
Barry Dorey
OSU catches a huge break even with one-year bowl ban
It could have been a lot worse.
That's the mentality that anyone associated with Ohio State has to have Tuesday afternoon when it was learned that the football program would be issued a one-year postseason ban (Big Ten title game and bowl game), docked nine scholarships over the next three years and receive two years of probation for their major infractions under former head coach Jim Tressel.
Tressel, meanwhile, received a five-year show-cause penalty, much like the one former Tennessee men's basketball coach Bruce Pearl received in the Volunteers' major infractions case. In this case, any school that wants to hire Tressel would be subject to sanctions unless it proves why it should escape being penalized. That could close the book on Tressel's collegiate coaching career.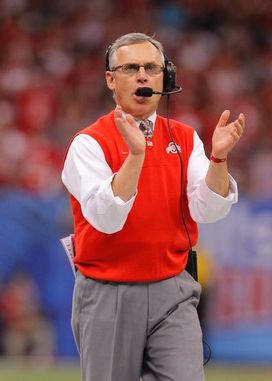 ICONJim Tressel received a show-cause penalty from the NCAA's Committee on Infractions.
Ohio State had previously self-imposed penalties, including vacating all wins from the 2010 season, losing five scholarships during the next three years and imposing one year of probation. Athletic director Gene Smith has said that the school will not appeal the sanctions.
So why should Ohio State feel fortunate about these penalties when the team knows it won't be able to participate in the postseason in 2012?
Well, in keeping with its inconsistent history, the NCAA's Committee on Infractions felt that one ineligible USC player (Reggie Bush) was worthy of a two-year bowl ban with 30 lost scholarships over three years, while multiple Ohio State players being ineligible just deserved the sentence it received Tuesday. What this shows is that former USC athletic director Mike Garrett's arrogance while the NCAA was investigating the Bush case really hurt the Trojans' cause, while the NCAA felt that the OSU administration was much more transparent during its case.
What fans in Columbus should be upset about -- and it's the most unfortunate part of the sanctions for the current players and new staff -- is that the Buckeyes possibly could have avoided a bowl ban next year if Smith and Co. would have self-imposed a postseason ban this season. Instead, the Buckeyes accepted a bid as a 6-6 team to play in the Gator Bowl against fellow 6-6 squad Florida.
But, keep in mind that Urban Meyer is in town. And, while he'll lose valuable practice time during next year's preparation for a bowl game, he still will get the Buckeyes back on course and ready to compete for Big Ten titles in the very near future.
Email dave.miller@nationalfootballpost.com or follow me on Twitter at Miller_Dave