February 01, 2011 -
Dave Miller
Oversigning and grayshirting take center stage in recruiting
If you're not familiar with the term "grayshirting," you're not the only one. Even if you're a die-hard college football fan, it's a word that doesn't come up too often even when discussing the annual sprint toward National Signing Day or when tracking the country's top high school players throughout the recruiting season.
Maybe the word doesn't ring a bell because you're not into college recruiting. I don't blame you if heaping high praise onto 17-year-old kids isn't your thing.
Or maybe you're ignorant to the word because you're just a fan of the games themselves on Saturdays.
Either way, it's a dirty word in college sports. And, finally, a university president finally spoke out on the subject.</p>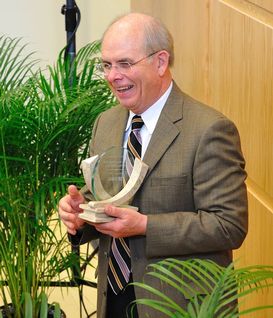 University of Florida president J. Bernard Machen has come out strongly against grayshirting.
The University of Florida's J. Bernard Machen gave his take in a piece on SI.com Tuesday, calling the practice of grayshirting morally "reprehensible."
Often, a student who signs a letter of intent with a school is told that he will have to wait to enroll the following year because, for example, another player the coaching staff had wooed to the program finally was academically cleared. And, with scholarship limitations, it becomes a numbers game.
And there are always losers in a big business such as college football.
Sometimes a player will be on campus all summer long, only to be told just weeks before classes begin that there is no room for him in the football program.
And why does this occur exactly?
One of the main reasons grayshirting is becoming all-too-common is because of oversigning. Coaches are aware of what they are doing, but they're intent on gobbling up as many of the best players as possible. They are aware that they will likely run out of scholarships, but they don't want to risk losing out on a player to a rival school. Thus, the letter of intent signed the previous February is voided. And this is not against the law.
Grayshirting, where schools delay an athlete's enrollment, allows coaches sign extra players essentially as insurance against injury, academic trouble or other unseen issues with scholarship players.
Perhaps the biggest misconception about a football scholarship is that it is guaranteed for at least four years and as long as five. But, in fact, athletic scholarships are one-year, "merit-based" awards.
So, if a recruit signs a letter of intent in 2011 with the expectation that he will be a part of the football program at least through the 2014 season, that isn't always the case.
What about a coaching staff that is upfront about its intentions regarding grayshirting, such as the former head coach at Machen's university, Urban Meyer?
Meyer extended a scholarship offer to quarterback recruit Jacoby Brissett last October — but only if he paid his own way for the first year. This grayshirting would have given Meyer flexibility in case one of his other recruits from 2011 suffered an injury, academic trouble or other issues.
ICONQB Jacoby Brissett passed on former Gators head coach Urban Meyer's offer of a grayshirt.
Brissett actually has reconsidered the Gators after new head coach Will Muschamp and offensive coordinator Charlie Weis expressed their interest in the signal-caller. The 6-5, 225-pounder is deciding between Florida, Miami, Washington and Wisconsin. No matter where he signs, Brissett wanted no part of the grayshirt. And who can blame him?
While Machen's disdain for the current system is ironic considering Meyer helped the school earn a lot of money during his tenure, the school president should still be commended for speaking out. It just would have been a little more powerful if he referenced Meyer's application of the grayshirting practice.
This year, the NCAA adopted the rule which limits schools to 28 national letter-of-intent football signees between Feb. 2 (National Signing Day) and May 1.
However, the practice of "oversigning" will continue. Schools can still bring in more than 28 recruits and worry about mathematics later. In order to meet NCAA limits — 85 scholarship players and no more than 25 enrolled each fall — schools can delay an athlete's enrollment until the following January, send recruits to junior college, revoke the scholarships of current players or encourage them to become medical redshirts.
In his SI.com post, Machen writes:
No university would allow [grayshirting] for the general student body. Imagine the uproar it would cause! What needs to happen in intercollegiate athletics is that universities must accept the moral responsibility to stop and prevent "grayshirting" and its associated actions. The football programs must be accountable and should honor institutional commitments to students. It is, after all, a moral contract.
Unfortunately, big business doesn't always have room for morality.
Keep that in mind when you watch some of the best players in America sign on the dotted line Wednesday.
Email dave.miller@nationalfootballpost.com or follow me on Twitter at Miller_Dave
Want to work in the NFL? Click here to sign up for the NFP's "Chalk Talk at the Combine" Seminar February 25 in Indianapolis.