July 27, 2011 -
Barry Dorey
Pac-12 Media Day notes
The Pac-12 held its inaugural Media Day as an expanded conference in Los Angeles on Tuesday and will now move onto press gatherings on Wednesday and Thursday in Manhattan and Bristol, Conn., respectively.
Let's take a look at some of the news that came out of Tuesday's gala in L.A.
Scott's opening address
In his opening statement, Pac-12 commissioner Larry Scott continued to boast about the rich media deal the league signed with FOX and ESPN.
"The last 12 months have brought monumental change to the Pac-10 conference, now the Pac-12," Scott said. "The conference moniker, conference of champions, has been well earned and embraced over the years. And this past year was no exception.
"This is a new era for the conference as we embrace the future, and the addition of Colorado and Utah very much helped us secure a landmark media agreement that's going to provide for unprecedented exposure nationally for the conference."
Scott also applauded the league's ability to field some of the best offenses in the country.
"The Pac-12 brand of football, if I can describe it that way, is as dynamic as any in college sports," he said. "Year after year we seem to produce the best quarterbacks and the most sophisticated offenses in the country. All five of the quarterbacks that are here with us today uphold the standard of play that legends before them set."
Quarterback play is indeed the strongest in the Pac-12, with Stanford's Heisman Trophy frontrunner Andrew Luck leading the way. Arizona's Nick Foles and USC's Matt Barkley are also future NFL draft picks, while Oregon's Darron Thomas is the nation's best dual-threat signal-caller.
Kelly speaks — but he doesn't say much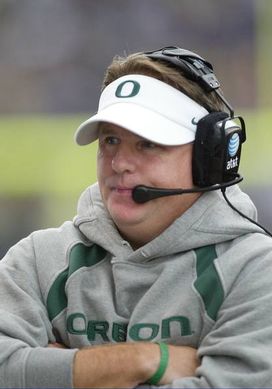 ICONOregon's Chip Kelly was calm, cool and collective in answering questions about Willie Lyles.
Oregon head coach Chip Kelly was prepared for an onslaught of questions concerning the NCAA's investigation into the relationship between the coaching staff and Willie Lyles.
"Obviously, I know the one question everybody is waiting to have answered," Kelly said. "We sent out a release earlier — we have great respect for the NCAA in terms of their review and examination of our use of recruiting services and we've cooperated fully with them and will continue to cooperate with them.
"As head coach of this program and of this football program, we're held accountable for everything we do. So we look forward to, when we can, I'd love to talk about it. There are a lot of answers I'd love to make sure we can get out there."
Kelly noted that significant changes in how he and his staff go about evaluating and recruiting players have not taken place and that he is not concerned with the perception of Oregon outside of his program.
I will say that Kelly came off as composed and calm, never really getting rattled. That was good to see if you're a Ducks fan. How much of that is a fa