May 17, 2011 -
Dave Miller
Pac-12 spring review
Let's take a look at some of the storylines that played out this spring in the Pac-12 as well as some of the questions that were answered and unanswered.
And in case you missed them, here are my Big Ten, Big East, Big 12 and ACC spring reviews.
How will the new members stack up in their debut season?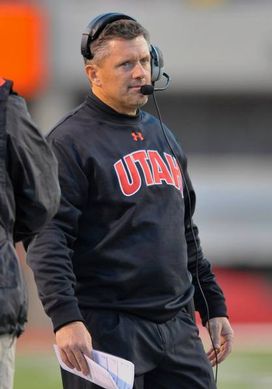 ICONKyle Whittingham leads the Utes into their first season in the Pac-12.
Colorado and Utah have arrived, turning the Pac-10 into the Pac-12. The Utes have a very good head coach and a stable program that is built to win year in and year out. However, it's a little tough to predict how the Utes will fare in their first year against fresh foes. In my post-spring power rankings released on Monday, I had Utah slotted at No. 5 — ahead of teams such as Arizona State and Washington. While we don't know exactly how the offense will look under new coordinator Norm Chow, I think the veteran coordinator will excel in Salt Lake City. Keep in mind that Chow didn't have much to work with at the quarterback position at UCLA. Utes quarterback Jordan Wynn was sidelined this spring with a shoulder injury and still needs to improve his overall game, but he provides the stability under center that Chow wasn't accustomed to with the Bruins. Head coach Kyle Whittingham is too good of a coach to not have a successful transition into the new league. Keep in mind that this is a squad that has won 33 games in the last three years. The secondary remains the biggest concern, however, especially in a pass-happy league.
Meanwhile, in Boulder, new head coach Jon Embree has an obvious rebuilding job on his hands. Rodney Stewart is a star at running back, but quarterback Tyler Hansen will need Paul Richardson to have a big season catching the football. Embree wasted no time declaring that things will be different in Boulder, dismissing a handful of players and leading a spirited session of 15 practices. CU at least will know what to expect in terms of competition, coming over from the Big 12. But this team still needs more talent and speed. It will be essential for Embree to improve the recruiting efforts in California. While I didn't love the hire because of his lack of head-coaching experience, Embree at least will go down fighting as an alum trying to get this program headed in the right direction.
Oregon and Stanford lead the way
For a second straight season, the conference crown will come down to the Ducks and the Cardinal. Chip Kelly's squad visits Palo Alto on November 12 in a game that should be for the league's automatic BCS bid. Can the Ducks claim a third consecutive league championship? The team loses clutch receiver Jeff Maehl, but many of the same characters from last season's high-octane, up-tempo offense return. However, it was the defense — despite losing Kenny Rowe, Casey Matthews, Brandon Bair, etc. — that looked better prepared this spring. Until they are beat in league play, Oregon remains the team to beat.
Meanwhile, Stanford will head into every contest with the frontrunner for the Heisman Trophy, Andrew Luck, leading the offense. Luck has a sound rushing attack to complement his aerial assault, but the big question is whether new head coach David Shaw can fill the emotional void left by the departure of Jim Harbaugh. The Cardinal players certainly respect Shaw, but intangibles were Harbaugh's specialty. How much of that intensity and fiery nature will be missed?
The other concern for Stanford is the loss of Vic Fangio, the longtime NFL defensive coordinator who left The Farm with Harbaugh. This was a unit that really struggled in 2009 before Fangio's arrival. With the defensive line remaining a concern after spring ball, will this unit take a step back?
Still, the Ducks and Cardinal stand out from the rest of the teams in the conference.
Will 'SC be back?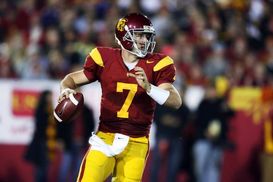 ICONMatt Barkley hopes to light up the scoreboard every Saturday.
The Trojans, at the very least, will be fun to watch next fall. Arizona State, Arizona and even Utah have been the popular picks by many to win the South division, but Lane Kiffin's squad could easily ascent to the top of the standings if the much-maligned defense can play better in its second season under coordinator Monte Kiffin. Despite missing many of its best defenders this spring, the unit outshined its counterpart led by quarterback Matt Barkley, who was without his full complement of receivers.
This should be a successful year for 'SC fans even if it is shut out of the postseason. Could they become bowl-eligible? I don't see how the NCAA ultimately grants it when the governing body rules on the school's appeal of sanctions. But no matter what, this is still a talented team — if it is able to get back to full strength.
Other thoughts:
Cal remains one of the toughest teams to forecast. The jury is out on whether Buffalo transfer Zach Maynard can be steady under center. The shocking aspect of Cal's quarterback woes is head coach Jeff Tedford's inability to find a solid starter since Aaron Rodgers' departure. The young defense also remains a concern.
After posting victories in seven of their first eight contests last season, Arizona stumbled down the stretch with four consecutive losses. With a chance to finish the season on a positive note, the team fell 36-10 to Oklahoma State to close the year on a five-game skid. Nick Foles and Juron Criner pace an offense that will score points, but replacing all five starters on the offensive line has proved difficult.
I know Arizona State has 17 starters returning to a team that played their toughest opponents — Oregon, Stanford and Wisconsin — well last season. But I need to see it to believe it when it comes to Dennis Erickson's squad. There's no question, though, that the home game against USC on Sept. 24 will be a matchup to watch.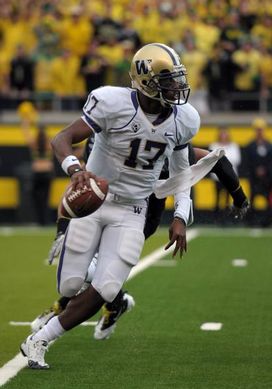 ICONKeith Price takes over for Jake Locker under center at Washington.
Keith Price held his own filling in for Jake Locker last season when the Huskies traveled to Eugene to take on Oregon. With Chris Polk headlining a deep crop of running backs, the Huskies will be okay on offense. But will Nick Holt's defense play consistently week after week?
Mike Johnson has taken over as offensive coordinator at UCLA, but the addition of Jim Mastro to oversee the running game may be the bigger story because of Mastro's knowledge of the Pistol offense. The shotgun formation will still be a big part of the attack so the Bruins can run Johnson's spread, but expect to see the quarterback lined up under center more often than last seas on. Will more variety lead to better results? As much progress as there was made with the running game's talented backs last season, that production will all go to waste if an aerial attack is not prevalent.
Quarterback Ryan Katz is an emerging star, but will he have receiver James Rodgers back at 100 percent after his knee injury? Line play will tell the tale for the Beavers next fall, who hope to bounce back under Mike Riley.
Yes, this is the year that Washington State does not finish last in the conference. I don't know if Paul Wulff ultimately keeps his job beyond this season, but quarterback Jeff Tuel has some solid skill-position players to work with and the depth is improved in Pullman.
Email dave.miller@nationalfootballpost.com or follow me on Twitter at Miller_Dave