September 02, 2010 -
Dave Miller
Paterno finds fountain of youth at Penn State
A freshman quarterback lining up under center for Penn State in the team's opener?
Has Joe Paterno lost his mind?
Put away your jokes about the age of the Nittany Lions' head coach because Robert Bolden flat-out outplayed the competition en route to being named the starter for PSU's opener Saturday against Youngstown State.
Putting together a very strong fall camp and developing at a faster rate than anyone had expected, the true freshman Bolden edged returning sophomores Matt McGloin and Kevin Newsome in a close battle for the starting nod.
Even though Paterno has led the Nittany Lions for 45 years, there's still time for firsts. When Bolden takes his initial snap, it will mark the first time Penn State will open the season with a true freshman as the starting quarterback, and it's the first start for a true freshman quarterback under Paterno for any game since Wally Richardson in 1992.
Sure, Bolden was a highly touted recruit. But he only joined the team this summer, which was in contrast to fellow freshman Paul Jones, who was an early enrollee and impressed during spring practice. Penn State likely will decide to redshirt Jones, in large part due to the presence of Bolden.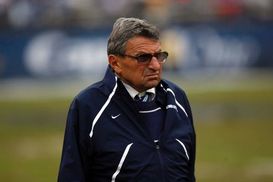 ICONJoe Paterno has selected true freshman Robert Bolden to be Penn State's starting QB.
Paterno issued a statement on the quarterback derby: "Based on what we have seen to this point, Bolden has a slight edge right now, but we are confident all three quarterbacks are ready to go and hope to give them an opportunity to play until we settle on the one that gives us the best chance to win."
On Tuesday, Paterno had said that all three quarterbacks could possibly play in the opener, which could be the situation that plays out — especially considering the Nittany Lions should handle Youngstown State fairly easily.
But for now, the 6-3 Bolden — who is a dual-threat signal-caller — will officially take the reins from two-year starter Daryll Clark on Saturday.
Stay with the NFP as we count down until the start of the 2010 college football season on Thursday, Sept. 2.
Follow me on Twitter at <a href="http://twitter.com/Miller_Dave" target="_blank">Miller_Dave or send your college football questions to dave.miller@nationalfootballpost.com
Click here to purchase the Total Access Pass / Fantasy Draft Guide from the NFP.