November 09, 2011 -
Barry Dorey
Paterno's end-of-season retirement isn't good enough
Joe Paterno is used to calling his own shots.
A lot of major-college football head coaches have that luxury, especially after donating tens of millions of dollars to the university and making it appear as if its one of the most pristine schools in the nation.
When Penn State president Graham Spanier, athletic director Tim Curley and other university officials went to Paterno in 2004 and asked him to step down from head-coaching duties, Paterno simply said no — because he could. He was Joe Pa.
When he was asked in 2008 about the 46 players who faced criminal charges over a five-year period and whether the program was out of control, Paterno took offense at the perceived "witch hunt" that he likely felt was trying to take him down.
He may have been the oldest face of a program in sport increasingly flooded with younger coaches, but he continued to maintain that he was in control. Most importantly, that he was a leader.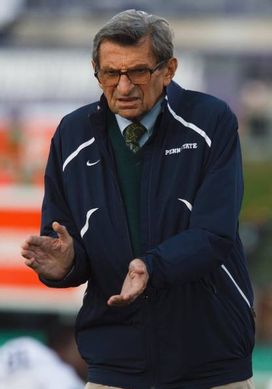 ICONJoe Paterno announced that he is retiring at the end of the season.
Joe Pa seemingly couldn't do any wrong. Not just in the eyes of Penn State fans, but in the eyes of everyone who made college football an integral part of their fall Saturdays.
But Paterno did something very wrong in 2002. Rather, it's what he didn't do that will stain his once-pristine legacy.
In his statement announcing his retirement from coaching at season's end, Paterno said the investigation into sexual assault allegations levied against former defensive coordinator Jerry Sandusky is tragic and "one of the great sorrows of my life."
"With the benefit of hindsight, I wish I had done more," Paterno said in the statement.
Don't we all wish we had the luxury of acting in hindsight.
It was the very inaction of Paterno in 2002, when he reported to athletic director Tim Curley that Sandusky was sexually assaulting a child in the locker room, that stains a career that featured more victories than any other Division I head football coach and two national championships over 46 seasons as head coach in Happy Valley.
There was no phone call to the police. There was seemingly no follow-up on the matter with Curley. Or, if there was, it wasn't enough to make sure that Sandusky was never allowed to be near a child again.
Legally, Paterno did what was necessary. But when you're the most prominent figure in the state of Pennsylvania, you're held to a higher standard. Or, if you're human, you simply do the right thing.
It's that very inaction on that day in 2002 that should not allow Paterno to coach the Nittany Lions against Nebraska on Saturday or another game in State College ever again.
The 84-year-old longtime face of the program had an obligation to make sure Sandusky never had the opportunity to act in a predatory way ever again.
And it's the obligation of the Penn State board of trustees to make sure the cleaning up — and the healing process in State College — begins immediately.
Email dave.miller@nationalfootballpost.com or follow me on Twitter at Miller_Dave