October 04, 2010 -
Dave Miller
Patriots-Dolphins MNF preview
If it's Monday night, football fans are ready for Monday Night Football. However, if you're a guy, you may face a weekly dilemma. Because you likely alienated your wife or girlfriend for the entire day Sunday while watching NFL action, you may have to perform some damage control. Thus, you may be forced to sit this game out while tuning into the CW to watch 90210 and Gossip Girl.
Worried that you won't have anything to talk about from the game on Tuesday morning at the office? Well, I can't predict the outcome, but I can at least provide some talking points for your discussion. Of course, you're going to be the one asking all of the questions.
With that in mind, here are 10 things to keep an eye on — five for each team — during Monday night's Patriots-Dolphins tilt in South Beach.
New England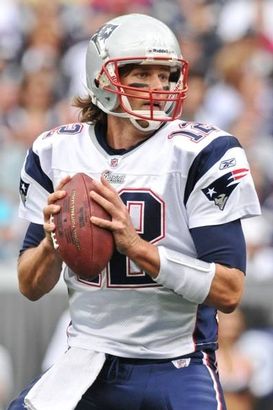 ICONNew England QB Tom Brady
1. New England's offensive line doesn't hold up against pressure quite like it has in the past. Thus, expect quarterback Tom Brady to try to get the ball out of his hands even quicker than usual because the Miami defense will be coming after him all night long.
2. Will they run the rock? Last week against Buffalo, the Patriots rushed the ball 38 times for 200 yards. Yes, I was as surprised as you when I saw the number '38.' Brady is obviously even more dangerous when there is some semblance of a running game in New England, but for some reason there are times when the Pats refuse to keep it on the ground. Will last week become the norm?
3. Who will run the rock? With Fred Taylor out this week with a toe injury, BenJarvus Green-Ellis has been one of the hotter pickups in fantasy leagues across the country. He logged 98 yards on the ground against the Bills and should get the majority of the touches…
4. Rookie tight ends Rob Gronkowski and Aaron Hernandez combined for nine catches and 118 yards in the shootout win over the Bills, and they should expect to continue to be a major part of the offense — especially in multiple receiver sets.
5. Will the Pats be able to generate pressure? New England doesn't have many sack artists on the roster and are not getting the production from their outside linebackers — a necessity in the 3-4. No pressure will be very bad for the Pats' suspect secondary.
Miami
1. This is a Brandon Marshall game. The Dolphins brought in the former Bronco for these kinds of primetime games. Even if he doesn't put up eye-popping numbers, safety help will be provided to the Patriots' young corners. Will this open things up for tight end Anthony Fasano down the seam?
2. Is the Wildcat dead? Not against New England, as the Patriots know firsthand just how effective it can be. But Bill Belichick will have his defensive unit ready for it. Other teams have figured it out, so I'm not sure how much the Dolphins will employ it as the year goes on.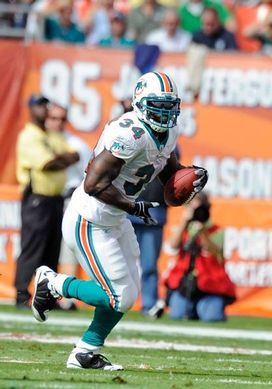 IconMiami RB Ricky Williams
3. A simple handoff will do. With talented and accomplished running backs in Ronnie Brown and Ricky Williams, is the Wildcat even necessary? Just pound the rock — something the team didn't do in the loss to the Jets. Miami threw the ball way more than it ran, and that's a recipe for disaster because Chad Henne is not an elite quarterback. I like him a lot, but he needs a ground game like every other signal caller besides Peyton Manning. Besides, the Dolphins are supposed to be a power running team behind that very good offensive line.
4. Speaking of Henne, this is a big game for the former Michigan Wolverine, especially coming off losing a duel to Mark Sanchez. Outplaying Brady isn't necessary for Henne to lead his team to a win. But he'll have to hit his open receivers and make plays in the passing game to move the chains and score points.
5. Keep an eye on Davone Bess, Henne's underneath target who excelled against the Patriots last season in Miami's Week 13 victory. In that contest, he had 10 catches for 117 yards and a touchdown.
Dave Miller is the college football writer for the National Football Post. When he isn't putting coaches on the hot seat, he can often be found daydreaming of being the future Mr. Katy Perry. You can follow him on Twitter at Miller_Dave.