January 11, 2012 -
Dave Miller
Pease to give Florida's offense a makeover
Things haven't been smooth for the Florida offense since Tim Tebow was drafted by the Denver Broncos two years ago.
In Steve Addazio's last season as coordinator, quarterback John Brantley struggled in his first season as the starter behind an average offensive line and with an underachieving group of receivers. And when Addazio left to assume head coaching duties at Temple, Charlie Weis arrived from the NFL's Kansas City Chiefs to take over the struggling unit in Gainesville.
But injuries and more underachieving playmakers plagued the Gators last season, as Weis was unsuccessful in transitioning the offense from the spread to a pro-style attack, hampered by having to play two freshmen quarterbacks. Florida finished 105th nationally in total offense, 73rd in rushing and 89th in passing in Weis' only season.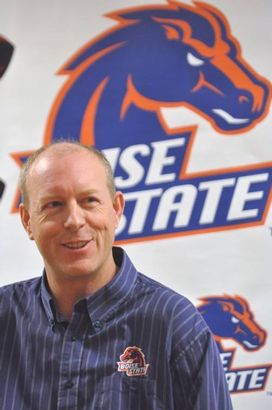 Brent Pease is headed to Gainesville to re-ignite the Florida offense.
So enter Brent Pease, the new leader of the Florida offense who arrives from Boise State, where he spent the past season as the team's offensive coordinator after serving the previous five as the Broncos' receivers coach.
The Broncos were ranked ninth in the nation in total offense last season, averaging 481 yards a game despite losing OC Bryan Harsin to Mack Brown's staff at Texas in the offseason. Pease, who also served as offensive coordinator at Baylor (2003-05) and Kentucky (2001-02), has coached future NFL quarterbacks Jared Lorenzen and Shane Boyd with the Wildcats and oversaw yet another productive season from the Broncos' Kellen Moore.
At UF, the 47-year-old OC will utilize multiple formations and preach a balanced attack. The Gators will still run a pro-style offense, which will be attractive to top recruits (as if Florida wasn't already an ideal destination for top high school prospects), and head coach Will Muschamp said that the team would retain most or all of Weis' playbook. Pease, who was also reportedly being wooed by Nick Saban for Alabama's OC vacancy, is experienced enough as a play-caller and coordinator to adjust to the offense Weis ran. He's also focused enough to be able to handle running the entire offense while Muschamp heads up the defense.
But expect Pease to be creative, as well, and deviate a little from the pro scheme when necessary. After all, you can take the man out of Boise, but you can't take the Boise out of the man.
Pease has been successful with less talented players than he'll get to work with at Florida. Despite their underachieving ways the past two seasons, the Gators still annually have some of the top playmakers in the nation. And Pease will inherit quarterbacks Jeff Driskel and Jacoby Brissett, two players who are highly talented and could be dangerous as they become more seasoned in the offense. They just need help from their skill players, which should occur because Pease knows how to maximize talent.
After all, that's what he's had to do to be successful throughout his career to get to the point of calling plays for an offense in the top conference in America.
Email dave.miller@nationalfootballpost.com or follow me on Twitter at Miller_Dave