August 04, 2011 -
Dave Miller
Pelini: 'We're right on the cusp'
Nebraska's Bo Pelini understands that a lot of rival fans and alumni would hate to see his team storm into the Big Ten and claim a league title in its debut season.
But he doesn't care.
The Cornhuskers head coach, who is entering his fourth season at Nebraska, is confident in his team and looks forward to his squad giving its best effort on Saturdays this fall.
And claiming that elusive league crown.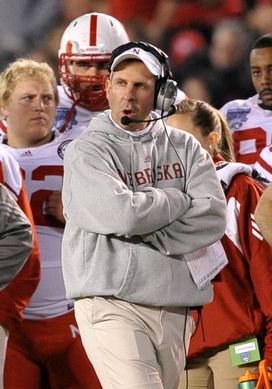 ICONNebraska head coach Bo Pelini believes his team can claim a Big Ten crown in its debut season.
"I guarantee you a lot of people in the Big Ten, everyone we're playing, is saying, 'We're going to show Nebraska,'" Pelini said at a booster luncheon Wednesday in Lincoln. "Well, they've got to line up and play us and let the chips fall where they may. We're going to be ready each and every Saturday."
Nebraska has put together back-to-back 10-win seasons under Pelini but failed to claim Big 12 conference titles both seasons, losing 13-12 to Texas in the 2009 league championship game and 23-20 to Oklahoma last year despite having a 17-0 lead. Offensive struggles in both contests dogged the Huskers.
But dynamic quarterback Taylor Martinez is healthy and coming off a strong spring, and "T-Magic" will be running a new no-huddle scheme this fall. Coupled with a strong defense led by tackle Jared Crick and cornerback Alfonzo Dennard, the Huskers seem to have all the pieces in place for that elusive league title.
"We want to win a championship this coming fall," Pelini said. "We haven't done that yet, and I came here and said we're all about championships. We're not playing around here for second place. I understand the responsibility. I have to put a product on the field that you'll be proud of.
"We're right on the cusp. Now we have to make a few more plays. We've been really close the last two year. It's not going to get any easier this fall. We're going to do certain things to get over the hump."
Nebraska does have a difficult schedule to navigate, including road games at Penn State, Michigan and Wisconsin. Ohio State, Michigan State and Iowa will visit Lincoln.
Still, Pelini is looking forward to the challenge.
"I wouldn't trade any other football team for the one I have to go and take the field with this fall to meet that challenge," he said.
At Big Ten Media Days, Pelini mentioned that his staff has put a newfound emphasis on recruiting the upper Midwest, branching out more toward places like Ohio and Illinois -- real Big Ten country. New Jersey has also been a point of emphasis for the Huskers, and that territory has always served Big Ten schools as well as Notre Dame quite well. It will be interesting to see if Pelini and his staff try to make a dent in Michigan and Pennsylvania as it continues to adjust to life in the Big Ten.
With so much enthusiasm around the program, Nebraska certainly is primed for a memorable 2011 campaign.

Email dave.miller@nationalfootballpost.com or follow me on Twitter at Miller_Dave