August 08, 2011 -
Dave Miller
Penn State head coach Joe Paterno hospitalized
Penn State head coach Joe Paterno remains hospitalized after injuring his right shoulder and hip when a receiver collided with him during practice Sunday.
The longtime leader of the Nittany Lions was not expected to undergo surgery and will likely be released by Tuesday afternoon, according to a team spokesman.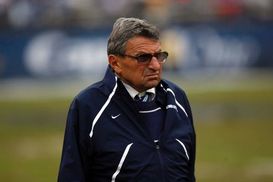 ICONJoe Paterno remains hospitalized after being injured at practice.
The 84-year-old Paterno was taking notes at practice when 5-7, 157-pound junior receiver Devon Smith ran into him. He walked off the field at the conclusion of practice but physicians insisted that he be examined further.
Paterno conducted a coaches' meeting via telephone Monday morning from Mount Nittany Medical Center and doesn't expect to miss a beat as the team prepares for the 2011 season.
"I expect to be back at practice soon," Paterno said in a prepared statement. "I'm doing fine. Tell everyone not to worry about me.
"I like the effort I have seen from the squad during our first few practices, but we have a long way to go to get ready for the schedule we have."
This wasn't the first time Paterno was injured in a collision.
Paterno broke his leg and suffered a damaged knee ligament in 2006 when a player ran into him during a game against Wisconsin. He also suffered a hip injury in preseason practice in 2008 and underwent hip-replacement surgery after that season.
At Big Ten Media Days, Paterno said that his health was strong as he began his 46th season as the Nittany Lions' head coach.
Email dave.miller@nationalfootballpost.com or follow me on Twitter at Miller_Dave