May 07, 2014 -
Dave Miller
Penn State is putting together a dominant Class of 2015
He has yet to coach a game in Happy Valley, but James Franklin has made an immediate impact on Penn State football.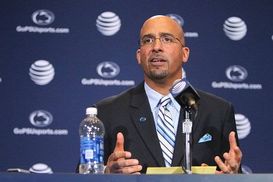 James Franklin is a tireless recruiter.
The former Vanderbilt program-builder has done an incredible job in a very short amount of time on the recruiting trail, landing two more highly sought prospects on Tuesday with the commitments of Pennsylvania offensive tackle Sterling Jenkins and New Jersey quarterback Brandon Wimbush. The prospects are two of the better players not only in the Northeast region but in the entire nation.
While it is incredibly early to look ahead to next year's National Signing Day, the Nittany Lions easily have a Top 5 class as things stand currently. And that's not much of a shock considering the high-quality talent that the energetic Franklin was able to bring into Vandy, which was considered an impossible place to attract top talent.
Former head coach Bill O'Brien was able to do an outstanding job of keeping Penn State's head above water during these brutal NCAA sanctions. But with the excitement level surrounding Franklin's program despite the remaining scholarship limitations, there's no question that Nittany Lion fans have to be ecstatic about the future -- especially with the sanctions and postseason bans eventually coming to an end.
As of now, Penn State has 15 commitments for the Class of 2015, and roughly half of them are considered Top 15-20 prospects nationally at their positions (depending on the recruiting service). While the class is almost complete because the program is limited to 80 scholarship players this cycle, the talent level is very high. Of course, no commitment is official until that fax comes in next year on NSD. And recruits will be keeping a close eye on the product that is on the field each Saturday this fall. But Franklin's track record should have PSU fans very excited.
Here's a look at some of the better recruits who have given a pledge for '15:
OT Sterling Jenkins, Baldwin High School (Pittsburgh, PA)
A 6-8, 305-pounder with a high ceiling. Just needs to add some strength.
OT Ryan Bates, Archbishop Wood High School (Warminster, PA)
A 6-5, 285-pounder who is a good athlete. Needs to get stronger but plays with good intensity.
QB Brandon Wimbush, Saint Peter's Prep (Jersey City, NJ)
A 6-2, 215-pound dual-threat signal-caller who is a more accomplished passer than most dual-threats.
DT Adam McLean, Quince Orchard High School (Gaithersburg, MD)
A 6-2, 290-pounder who can play across the D-Line.
WR Juwan Johnson, Glassboro High School (Glassboro, NJ)
A 6-4, 205-pounder with very good size and excellent ball skills.
OG Steven Gonzalez, Union City High School (Union City, NJ)
The 6-4, 310-pounder could play tackle but may project best as a guard. Plays with a nastiness.
RB Andre Robinson, Bishop McDevitt High School (Harrisburg, PA)
The 5-10, 205-pounder is a powerful, compact runner.
Others who have given their pledge to Penn State: Indiana ILB Josh Barajas, Virginia WR Brandon Polk, Maryland DE Kamonte Carter, Pennsylvania RB Saquon Barkley, Pennsylvania DE Ryan Buchholz, Pennsylvania ILB Jake Cooper, Maryland DE Jonathan Holland and Connecticut S Jarvis Miller.
Dave Miller, the college football editor and writer for the National Football Post, is on Twitter @Miller_Dave.