March 19, 2011 -
Dave Miller
Penn State spring practice preview
Another season, and another year at Penn State for Joe Paterno.
The Nittany Lions will be led by their veteran leader once again in 2011 as they try to improve on a 7-6 season. Early preparations for next fall began on Friday with the start of spring drills.
Penn State (7-6, 4-4 Big Ten in 2010)
Who will emerge as the starting QB?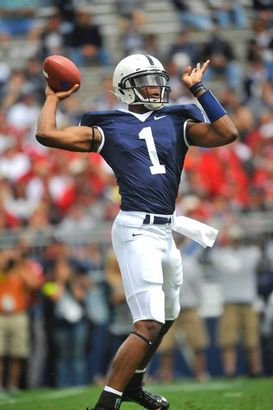 ICONWill QB Rob Bolden stick with the Penn State program for the long haul?
Matt McGloin ended the 2010 season as the starter under center after true freshman Rob Bolden battled inconsistency in his first year on the job. Following his injury against Minnesota, Bolden never saw the field again as the steady McGloin led a late-season Nittany Lions resurgence. He threw for 1,548 yards with 14 scores in the team's last six games.
But McGloin struggled mightily against Florida in the Outback Bowl when he threw five interceptions, raising some doubt on his status as the starter moving forward.
Bolden's touchdown-to-interception ratio (5 to 7) wasn't outstanding, and his offseason consideration of a transfer worried Nittany Lions fans. However, Paterno was able to convince him to stay — for now. How will this battle unfold this spring? Has McGloin's tough postseason performance and Bolden's hard work through conditioning drills tilted the balance in the rising sophomore's favor?
What happened to the defensive line?
The Nittany Lions struggled against the run and did not consistently generate a strong pass rush last season. Defensive end Jack Crawford was slowed by injuries, and fellow end Eric Latimore was lost for the season with a dislocated wrist against Illinois. Devon Still will continue to produce at tackle, while Jordan Hill likely is line to replace Ollie Ogbu.
Can this unit consistently pressure the quarterback and play more sound and physical against tough Big Ten rushing attacks?
Speaking of lines, the starting five on offense has been much too inconsistent the last few seasons. Can it regain the normal form of traditional Penn State squads — even without future NFL draft pick Stefen Wisniewski?
Leaning on a strong secondary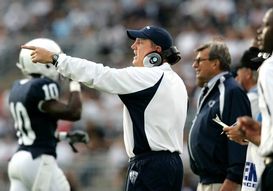 ICONPenn State defensive coordinator Tom Bradley
All four starters from last year's defensive backfield are back, and this could be the strength of the defense. Top cornerbacks D'Anton Lynn, Stephon Morris and Chaz Powell return, as well as Derrick Thomas, who missed nine games due to suspension last season. Safeties Nick Sukay, Drew Astorino and Malcolm Willis all are back, and Willis received significant playing time last season when Sukay tore his pectoral muscle. While coordinator Tom Bradley tries to get his front four to be more disruptive, he'll at least have the luxury of having an experienced defensive backfield to lean on.
Penn State will conclude its spring practice schedule when it holds its annual spring game on April 16.
Email dave.miller@nationalfootballpost.com or follow me on Twitter at Miller_Dave