June 06, 2012 -
Dave Miller
Penn State's McGloin on QB rotation: 'It's a killer to a team'
Matt McGloin was named Penn State's starting quarterback by Bill O'Brien, who is in his first year as head coach in Happy Valley. Many Nittany Lion fans aren't looking forward to another year of McGloin as the team's starting signal-caller, however, because of the anemic offenses the fans had to suffer through the last few seasons.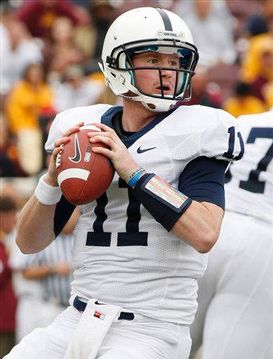 QB Matt McGloin will have a chance to be the starter for a full season in Happy Valley.
Although the offense will have its ups and downs in O'Brien's new spread scheme, there is optimism that the offense can at least help out what should be another stout defense in State College. And, according to McGloin, his play should be much improved because the rotation at the quarterback position with Rob Bolden should not be prevalent.
At least it won't be if the fifth-year senior McGloin picks up his game.
"It's a killer to a team, in my opinion," McGloin told StateCollege.com about the rotating signal-callers. "You have to have a clear-cut starter. The team has to believe in the quarterback. That wasn't the case the last two years.
"If the [coaches] had put their trust into one guy, we might have been more successful."
Last season, Penn State finished 110th in the country in points per game and 112th in passing efficiency.
No matter what the reason was for the anemic offense, McGloin may be part of a rotation once again (possibly with new No. 2 Paul Jones) if he can't get the Nittany Lions offense going from the get-go this fall. The former walk-on's completion percentage was only 54 percent last fall, and his touchdown-to-interception ratio was just 8 to 5. He should be able to get into a better rhythm as a starter in a more fast-paced offense, but there's no question that he needs to get off to a fast start if O'Brien and his staff want to be confident in his ability heading into Big Ten play and the meat of the schedule.
Email dave.miller@nationalfootballpost.com or follow me on Twitter at Miller_Dave