January 08, 2014 -
Dave Miller
Petrino wins, and that's all that matters to Louisville
It doesn't matter that Bobby Petrino has become one of the most disliked people in his profession.
It makes no difference that some players felt disrespected at times during their collegiate careers.
Secretly interviewing for another college job that was not even vacant and then lying about it doesn't matter, not even after he continued to flirt with other schools after getting a raise and an extension.
And not even an embarassing episode that played out in public at Arkansas, which ultimately was stung when he ruined the football program during the Jessica Dorrell episode, could deter Petrino's latest suitor.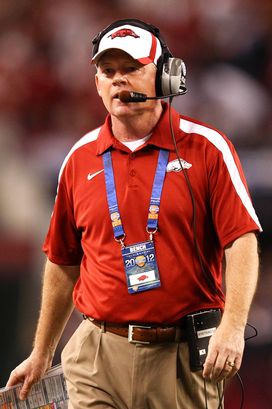 US PRESSWIREBobby Petrino is expected to get a second head stint at Louisville.
Hiring his mistress to work within the athletic department and then lying about it? NBD.
Western Kentucky can't be blamed for its wooing of Petrino. It's a Sun Belt school that never would have dreamed that it could land a coach of his caliber. But the Hilltoppers felt his wrath after just one season, so another head-coaching search will commence in Bowling Green.
Meanwhile, it appears that Louisville is ready to risk becoming yet another victim — a role it has played before.
Multiple reports have Cardinals athletic director Tom Jurich set to hire Petrino to replace Charlie Strong, who left to become the new face of Texas football. Jurich is expected to meet with Petrino's agent, David Dunn, on Wednesday night to finalize the contract, with the school likely introducing Petrino sometime on Thursday after the Louisville Athletic Association's personnel committee approves the deal.
Did I mention where Petrino was coaching when he secretly sought other college jobs before leaving for the NFL's Atlanta Falcons (a job he ultimately left before the end of a season)?
It was at Louisville, which was led by Jurich at the time.
Is it amazing that Petrino would get a head job at a BCS-conference school after such a short time away from the spotlight? Absolutely not, and it's for one reason and one reason only: 83-30. That is the career mark of Petrino as a college head coach. Perhaps most impressive is his 34-17 run at Arkansas and the fact that the Razorbacks are just 7-17 since he was fired.
No matter how many times Petrino has burned bridges, Jurich seemingly kept coming back to the fact that Petrino is 53 games over .500 in his career. The fact that Petrino already left Louisville once after trying to leave earlier than he did apparently doesn't concern the program's boosters and donors, who may have swayed Jurich into making this move despite the fact that the Cardinals' AD reportedly interviewed top assistants such as Chad Morris, Pat Narduzzi and Derek Mason. Bringing in an unproven head coach may be risky, but what does that make the Petrino hire?
There's no doubt Petrino helped revitalize Louisville when he led the school from 2003-06 and went 41-9, including leading the program to its first-ever BCS bowl victory. And he is inheriting a very healthy program that is on its way to the ACC next year and is becoming a national presence. But was the risk of another Petrino departure or episode of poor decision-making really worth it? Is his offensive mind really going to make that much of a difference over a guy like Morris, who could ultimately prove to be the next Gus Malzahn? After all, Jurich hit a home run both in on-field performance and in character when he hired Strong four years ago.
The motto of "winning isn't everything, it's the only thing" seems to fit now for Jurich, who better hope he doesn't suffer a fate similar to that of Jeff Long, whose Arkansas program was left broken after Petrino's high-profile mistress fiasco.
Time will tell how Petrino's second act at Louisville will play out, but is Jurich's risk even worth it?
After all, that 83-30 mark isn't as shiny as it may first appear.
And even if the wins come in bunches, another coaching search usually somehow follows.
Dave Miller, the college football editor and writer for the National Football Post, is on Twitter @Miller_Dave.