January 01, 2011 -
Dave Miller
Pittsburgh fires new head coach Haywood
And you thought the West Virginia head-coaching situation was a mess?
According to a statement from chancellor Mark A. Nordenberg, Pittsburgh has fired Mike Haywood after his arrest on a domestic violence charge. The former Miami (OH) head coach was arrested around 3 p.m. Friday after a custody issue developed with a woman with whom Haywood has a child. The unidentified woman told police that Haywood grabbed her by the arm and neck and pushed her as she tried to leave.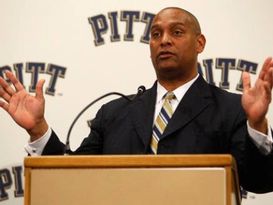 Mike Haywood will never get the chance to coach at Pittsburgh.
Haywood was released on bond Saturday, and he lost his job shortly thereafter. The school has now reopened its search for a new head coach.
Pitt hired Haywood on Dec. 16 to replace Dave Wannstedt, who was forced to resign. The 46-year-old led Miami (OH) to a 9-4 record this season and the MAC title. Pitt athletic director Steve Pederson praised Haywood's character when he was hired, calling his values "in line with the values of this great university."
Here is the complete statement from Nordenberg:
"After careful consideration of recent events, the University of Pittsburgh has dismissed Michael Haywood as its head football coach, effective immediately. He was advised of that action this afternoon.
"To be clear, the University's decision is not tied to any expectation with respect to the terms on which the legal proceeding now pending in Indiana might ultimately be concluded. Instead, it reflects a strong belief that moving forward with Mr. Haywood as our head coach is not possible under the existing circumstances.
"This is a matter of real regret for the many people at Pitt who had looked forward to working with him. However, head coaches are among the University's most visible representatives and are expected to maintain high standards of personal conduct and to avoid situations that might reflect negatively on the University.
"We will immediately re-open our search for a head football coach, expanding the process to include a larger pool of candidates. Our goal is to move swiftly, but prudently, to find the right person to successfully lead the Pitt football program for what we hope will be an extended period of time."
Email dave.miller@nationalfootballpost.com or follow me on Twitter at Miller_Dave