February 22, 2012 -
Dave Miller
Playoff fever
Change is coming to college football's postseason system.
What that will entail at this point, however, is anybody's guess.
Conference commissioners from the 11 FBS leagues as well as Notre Dame athletic director Jack Swarbrick met on Tuesday in Dallas and are convening again today as they try to determine the best way to crown a national champion once the current BCS television contract expires after the 2013 season.
What we can expect at the very least is a Plus-One system, which at least helps improve a postseason model that many have felt has been flawed since its inception 14 years ago. What we shouldn't expect, however, is a full-scale eight or sixteen-team playoff system that most college football fans have wanted to get implemented for many years.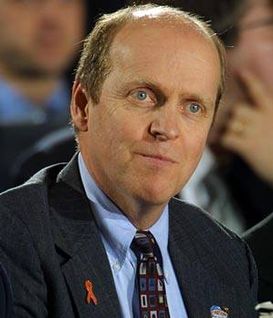 BCS executive director Bill Hancock is open to changes within the current postseason model.
The Plus-One model, which is the direction the administrators reportedly seem to be taking after Tuesday's meeting, would seem to be the next step to a larger playoff system open to more teams. However, complicating matters is that a TV deal for eight years or longer is entirely possible when the current deal runs out in 2013. Thus, this next step — the most-anticipated perhaps in major-college football history — would lead to a reformed postseason model that would be in place for awhile. Which means that a Plus-One — the equivalent of a four-team playoff — would be here to stay for awhile.
With so much money ready to be made and interest in non-title bowl games waning, this playoff model would give the sport a boost and at least newfound hope following a season in which many fans were left disappointed by the LSU-Alabama all-SEC rematch in the BCS national championship game. Even SEC commissioner Mike Slive is happy with the renewed interest in a small playoff format after supporting such a change in 2008, later changing his mind and reverting back to his original stance just recently.
And conference commissioners and presidents certainly have to be excited over the idea of a four-team playoff possibly at least doubling what the current BCS system paid out this past season.
But, as Slive noted after day one of the meetings, these discussions represent a marathon and not a sprint. So the expectation this week is to dwindle the list of potential playoff alterations from roughly 50 ideas, as BCS executive director Bill Hancock noted heading into the week, and continue to zero in on a final solution as the group meets again in Dallas next month and in Fort Lauderdale in April.
While he admitted that he would be "surprised if anything was announced before the summer," Hancock did say that the momentum is there for playing the title game earlier, which is great news for a sport that was dragging deeper into January. It may be best if the national semifinals in this new model were held not too long after Christmas with the final right after the New Year's Day games.
Of course, protecting the regular season and not interfering with the players' final exams remain of primary concern. And the conference commissioners will be quick to remind the public of those factors. So what remains to be seen is how the new model will officially look, including whether seeding will be involved, location of the games and how the bowls will be factored in. Will the bowls be used as semifinals and the final? Or will a game like the Cotton Bowl (played in massive new Cowboys Stadium) or another large stadium win the rights to football's version of the Final Four?
Plenty of questions remain, and the 12 leaders will continue to meet deep into the summer. But what's certain is that long-awaited change is coming to college football's postseason. And that's nothing short of great.
Email dave.miller@nationalfootballpost.com or follow me on Twitter at Miller_Dave