July 03, 2012 -
Dave Miller
Playoff will force teams to strengthen schedules
While having a selection committee choose the participants in college football's impeding four-team playoff has sparked some controversy, the one aspect of the new model that we can all agree is promising is the fact that an emphasis will be placed on strength of schedule.
Too many times we see teams schedule cupcake foes in September — and even in November — and chalk up easy victories. But with a new postseason model for 2014, schools are going to have to be mindful of their resume compared to other prospective playoff teams.
As Matt Hayes of the Sporting News noted recently in his series about nonconference schedules of all the teams in the BCS conferences, teams from the SEC and Big 12 typically play the easiest nonconference schedules in the nation. Perhaps not coincidentally, those two conferences have won more BCS national championships and played in more BCS title games than any other league. And according to Sporting News' annual ranking of nonconference schedules, the SEC and Big 12 have six of the 10 worst noncon schedules among BCS schools in 2012.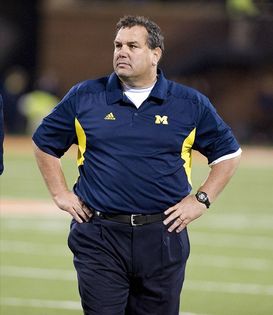 ICONBrady Hoke and Michigan will travel to Texas to play Alabama in the season opener.
However, to be fair, there are also programs from other leagues that have historically played weaker nonconference schedules. Such as Wisconsin, which has only played Arizona State and Oregon State out of conference in the past four years, as noted by ESPN.com's Adam Rittenberg. In fact, the Badgers have only played three nonconference road games in the past three seasons: against UNLV and Hawaii as well as Northern Illinois (at Soldier Field in Chicago). Of course, fellow Big Ten member Michigan is set to play defending BCS national champion Alabama this season, Michigan State will play Boise State and Ohio State has always been open to playing tough nonconference opponents.
With the new playoff system placing an emphasis on strength of schedule, Wisconsin may want to reconsider some future nonconference foes. And according to athletic director Barry Alvarez, that is exactly what the program plans to do.
Per the Wisconsin State Journal, Alvarez understands the importance of strong nonconference scheduling in the changing postseason landscape. It's an issue that Big Ten commissioner Jim Delany fought for during the BCS meetings.
"If you want to be a player [in the national title picture] and strength of schedule is going to be a part of it, then you really have to consider [a different approach]," Alvarez said.
There have been reported recent discussions between ESPN, Wisconsin and Alabama to match the squads at a neutral site in the not-so-distant future. However, Badgers head coach Bret Bielema wanted a home-and-home series with the Crimson Tide. Alabama's Nick Saban declined, which is a little strange considering the Tide had a home-and-home with Penn State the last two seasons.
But even if that matchup doesn't occur, look for Wisconsin and other schools to make tougher scheduling a priority moving forward.
And that's exciting for everyone associated with the sport. As popular as college football has become — and it's arguably the No. 2 sporting brand behind the NFL — the month of September usually isn't very appetizing in terms of quality matchups.
Love or hate the idea of a selection committee, at least its inception will soon bring us more intriguing early-season matchups moving forward.
Email dave.miller@nationalfootballpost.com or follow me on Twitter at Miller_Dave