May 10, 2011 -
Dave Miller
Possible landing spots for Tyler Gabbert
It's all but official now that James Franklin will be Missouri's starting quarterback when the 2011 season commences. On Monday, the school announced that quarterback Tyler Gabbert was leaving the program "to pursue other playing opportunities."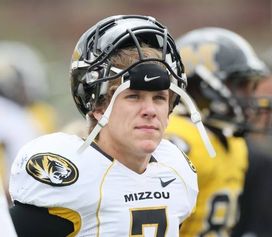 Tyler Gabbert is leaving Missouri. Where will he land?
Chuck Gabbert, the player's father, told the St. Louis Post-Dispatch that his son intends on finishing classes in Columbia before moving on and "looking for a new start and a fresh start." The decision comes less than three weeks after Franklin ended the spring season occupying the No. 1 QB spot on the post-spring depth chart.
Where could the brother of Jacksonville Jaguars 2011 first-round pick Blaine Gabbert be headed when all is said and done? According to Dave Matter of the Columbia Daily Tribune, who also spoke with Gabbert's dad, the Ballwin, Miss., product is considering the following programs: Iowa, Louisville, Arizona, Clemson and Wake Forest. Matter reports that Missouri will clear Gabbert to transfer anywhere outside of the Big 12.
Gabbert's father also told the Tribune that there were "factors that went into this decision that we're not going to discuss with the press." No matter what the coaching staff may have told the Gabbert family, it seems the quarterback didn't feel he had a legit chance to win the starting job in August.
Gabbert will have to sit out the 2011 season at his next FBS school because of NCAA transfer rules — the second straight year he won't see action after redshirting as a true freshman in 2010. However, he will have three years of eligibility remaining starting in 2012.
Let's take a look at which program could be the best fit.
Iowa
Gabbert strongly considered signing with the Hawkeyes while he was being recruited in high school. With Ricky Stanzi graduated and moving onto the NFL's Kansas City Chiefs, James Vandenberg will line up under center for the Hawkeyes in their season opener. Although his time on the field has been limited, I'm a big believer in Vandenberg moving forward. He didn't look overwhelmed while nearly leading Iowa past Ohio State at the Horseshoe in 2009, and the rising junior is coming off of a solid spring practice season. It would be surprising if he didn't have a steady 2011 and enter the 2012 season as the unquestioned starter. The Hawkeyes also have the athletic A.J. Derby from the Class of 2010 at the quarterback spot. Even if Derby does switch positions, I'm not sure Gabbert would be willing to risk heading to Iowa City and winning a competition with Vandenberg next spring.
Louisville
Former Nebraska offensive coordinator Shawn Watson, who is the Cardinals' new quarterbacks coach, is a family friend of the Gabbert family, and keep in mind that the Cornhuskers nearly landed Gabbert coming out of high school. Watson's presence in Lincoln was the biggest reason for the player's interest.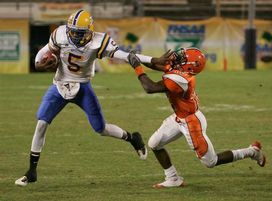 With Teddy Bridgewater on the roster, Louisville may not be the best fit for Gabbert.
The arrival of Teddy Bridgewater, however, may steer Gabbert away from the 'Ville. Head coach Charlie Strong's landing of Bridgewater was a big "get" for the program when everyone thought the dual-threat signal caller was headed to Miami. He is going to be hard to beat out for the starting job in 2012, especially with a full year of experience in Mike Sanford's offense. There are questions under center for the Cardinals this season. However, Gabbert's arrival would do nothing to change that. I have a hard time seeing Gabbert head down South with the talented Bridgewater on the roster.
Arizona
Would the Wildcats be interested in Gabbert's services even after landing Rutgers transfer Tom Savage? Keep in mind that head coach Mike Stoops may even redshirt backup Matt Scott in the fall, making him eligible to take over for current starter Nick Foles in 2012. The 'Cats also have Bryson Beirne on the roster. This field looks way too crowded for Gabbert, who would be making a decision on his future before Scott's redshirt decision is determined.
Clemson
Clemson is an intriguing possibility for Gabbert. The Tigers currently have three quarterbacks on scholarship — redshirt sophomore Tajh Boyd and early-enrollee freshmen Cole Stoudt and Tony McNeal. Incoming freshman Morgan Roberts will enter the fray next August. Head coach Dabo Swinney and his staff have sent out numerous offers to quarterbacks in the Class of 2012, but no player has made a commitment from that class as of yet. Boyd is the undisputed starter right now, with Stoudt's stronger arm giving him backup honors. There's a lot of young talent at the quarterback spot, but I'm not sold on Boyd yet. And Gabbert may be more talented than the other very young signal callers on scholarship.
Wake Forest
Gabbert had an offer from the Demon Deacons while in high school, and the Demon Deacons don't exactly have a great situation brewing under center.
Tanner Price is the unquestioned starter, and he'll be backed up by Ted Stachitas. But Brendan Cross, Patrick Thompson and redshirt freshman Keenon Rush each received a decent amount of reps this spring. Just based on the numbers, one would think this is too crowded of a situation for Gabbert to enter. But he would arguably be the most talented quarterback on the roster upon arrival to Winston-Salem if he indeed is serious about the Demon Deacons.
Email dave.miller@nationalfootballpost.com or follow me on Twitter at Miller_Dave