November 26, 2012 -
Dave Miller
Possible replacements for Chizik at Auburn
With Gene Chizik being informed that he will not return as head coach at Auburn in 2013, the Tigers have started the search for his replacement.
So who could be in the mix to land on The Plains?
Let's take a look at some possible candidates for athletic director Jay Jacobs...
Charlie Strong, Louisville head coach: Strong will be in demand, particularly at Arkansas, where he is likely very high on athletic director Jeff Long's list of candidates to replace John L. Smith. Tennessee may also be in play as well, so we could see a little bit of an SEC battle for Strong. He has had great success as an SEC assistant coach, and he has already taken Louisville to great heights. He maintains that he wants to stay with the Cardinals, but no one really wants to coach in an unstable Big East. Also keep an eye on Strong for the Cal opening as well because he was a finalist for the job years ago before Jeff Tedford was hired. It will be interesting to see where Strong lands if he decides to make a jump.
Willie Taggart, Western Kentucky head coach: It seemed that the Kentucky job would be Taggart's to turn down, but there hasn't been much noise about him in Lexington. And Cincinnati's Butch Jones looks to be the favorite there. Meanwhile, the Hilltoppers head coach was an assistant at Stanford and worked with Jim Harbaugh and David Shaw, and he has turned around WKU in a short amount of time, taking the program from 2-10 to 7-5. He has done a lot with so little at WKU, and he has the program bowl-eligible for the first time in school history. His Stanford-style power run game would fit in well in the SEC.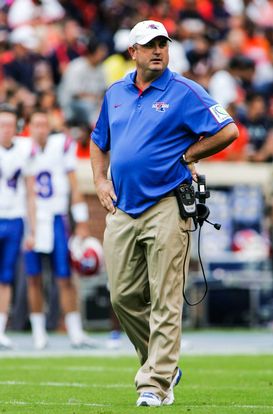 US PRESSWIREThe high-powered offense overseen by Sonny Dykes could be attractive to Auburn.
Sonny Dykes, Louisiana Tech head coach: Dykes was on Kentucky's list of potential candidates, but he's set up to get a bigger gig. He has led the Bulldogs to wins over Illinois and Virginia this fall, and his team was involved in a thriller in its loss to Texas A&M. An SEC job is a great opportunity for Dykes, who was a graduate assistant at Kentucky under Hal Mumme in the 1990s. His value will only continue to rise as he oversees one of the best offenses in the country. His high-powered offense will be attractive after Auburn's lackluster units the last two years.
James Franklin, Vanderbilt head coach: The former Maryland offensive coordinator has won 14 games in two seasons with the Commodores, including taking the program to two straight bowl games. He is one of the hottest commodities right now because of what he has done in Nashville and because of his intense work on the recruiting trail, which has netted the 'Dores some very strong recruits during his tenture. He will have his pick of jobs, but he could be intrigued by a move to The Plains.
Bo Pelini, Nebraska head coach: As I wrote recently at the NFP, Pelini would be a great hire for the Tigers.
Bobby Petrino, former Arkansas head coach: I still don't think Petrino will get a top-notch BCS gig for at least another season, but there are some around the Auburn program who would love to bring Petrino back into the SEC because all he does is win. His 34-17 mark in four seasons in Fayetteville shows that the guy can get it done in the nation's toughest conference. Auburn just does not seem like the right fit for Petrino. But given the team's offensive woes, it might be worth the gamble even with his history with the school (see secret plane ride to Auburn while Tommy Tuberville was still at the helm) because he was one of the sharpest offensive minds in the sport.
I don't really see Auburn going back to the well and bringing in Arkansas State head coach Gus Malzahn, and I'm not sure Jacobs would roll the dice on Alabama defensive coordinator Kirby Smart because of his lack of head-coaching experience. Same with Clemson offensive coordinator Chad Morris, although Will Muschamp is certainly working out at Florida. TCU head coach Gary Patterson is interesting, and he has been linked to the Arkansas gig. If he was to leave Fort Worth, this might be the year to do it.
Also keep an eye on: Louisiana-Lafayette head coach Mark Hudspeth and Louisiana-Monroe head coach Todd Berry.
Email dave.miller@nationalfootballpost.com or follow me on Twitter at Miller_Dave