November 19, 2012 -
Dave Miller
Possible replacements for Dooley at Tennessee
With the announcement that Derek Dooley has been dismissed as head coach at Tennessee, the Volunteers have started the search for his replacement.
So who could be in the mix to land in Knoxville?
Let's take a look at some possible candidates for athletic director Dave Hart, who said that prior experience as a head coach was critically important as well as strong character. Thus, a coordinator such as Alabama DC Kirby Smart and former Arkansas head coach Bobby Petrino will not be considered.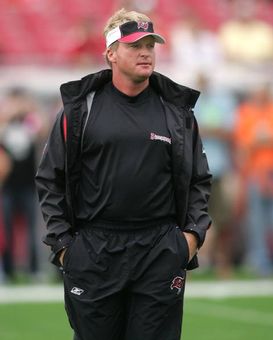 If Jon Gruden returns to coaching, could it be in Knoxville?
Jon Gruden, current NFL analyst: No matter what anyone thinks about his coaching credentials or his personality, Gruden is the holy grail of coaching candidates. And he will be (actually probably already was) Hart's first phone call. It is becoming increasingly clear that if Gruden is to leave the MNF booth, it will be for a college job despite the fact that I still hear he remains in play for the Cleveland Browns job. Gruden, a former graduate assistant at Tennessee who went on to marry a Tennessee football cheerleader, is the popular choice among most Vol fans. But will Hart be able to woo him to Knoxville?
Charlie Strong, Louisville head coach: Strong will be in demand, particularly at Arkansas, where he is likely very high on Razorbacks athletic director Jeff Long's list of candidates to replace John L. Smith. Tennessee is a better job than Arkansas, however. Strong has had great success as an SEC assistant coach, and he is taking Louisville to great heights. He maintains that he wants to stay with the Cardinals, but no one really wants to coach in an unstable Big East.
Gary Patterson, TCU head coach: Patterson has rejected overtures in the past, and the Horned Frogs now have stability in the Big 12. But if there was ever a time for Patterson to take on a new challenge, it would be now. He has taken the TCU program to the very top, but would he like to try to do the same on a bigger stage? That would be the question he has to ask himself at this point in his career. He was a popular choice to land on Rocky Top before Lane Kiffin landed the gig. But would he leave the state of Texas? It could be tough to say no if offered.
David Cutcliffe, Duke head coach: As I wrote recently, Cutcliffe would be the perfect candidate for Kentucky, but Wildcats athletic director Mitch Barnhart has had trouble landing Cutcliffe in the past. While he maintains that he will be the Blue Devils head coach in 2013, he could not pass up an opportunity to return to Tennessee, where he was a successful offensive coordinator before becoming Ole Miss head coach. Could he?
Dan Mullen, Mississippi State head coach: Mullen has essentially maxed out what a head coach can do in Starkville, so there's no question that he would take this job if Hart offered it. His time running the Florida offense helped prepare him to do well with the Bulldogs, but will his lack of big wins at the school turn off Hart?
I think Louisiana Tech head coach Sonny Dykes would do very well at Tennessee, but I think Hart will stay away from anything associated with the Bulldogs after Dooley's tenure. Dooley, of course, left Louisiana Tech to come to Tennessee.
Email dave.miller@nationalfootballpost.com or follow me on Twitter at Miller_Dave