November 29, 2011 -
Dave Miller
Possible replacements for Erickson at Arizona State
Arizona State athletic director Lisa Love pulled the plug on the Dennis Erickson era Monday, firing the veteran head coach after five seasons littered with mediocrity.
"You're going to allow someone to build a program," Love said. "Those first years were building-process years and I would give him a great deal of credit in that building process. But it was the completion of that toward the end where we began to not feel the on-field presence that ultimately led to the decision."
Erickson compiled a 31-30 mark in Tempe, but the Sun Devils lost their final four games after starting this season 6-2. With a talented roster playing in a very winnable Pac-12 South division, ASU certainly underachieved.
Erickson will be allowed to coach the Sun Devils in their bowl game, with their destination being announced on Sunday.
So who could be in line to replace Erickson in Tempe?
Here are some potential candidates: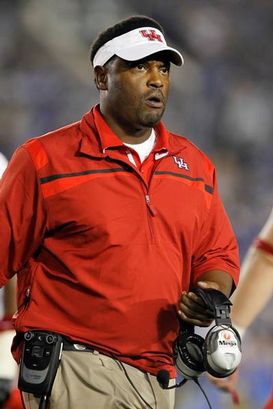 ICONKevin Sumlin is likely on the top of the list for many AD's looking for a new head coach.
• Kevin Sumlin: Sumlin is perhaps the hottest name on the market after leading Houston to an undefeated regular season and on the cusp of a BCS bid. His prolific offenses are fun to watch, and his brand of football will certainly put fans in the seats. But ASU will have competition for Sumlin, especially UCLA.
• Mike Leach: Besides Sumlin, there's not a hotter name on the market. And the former Texas Tech head coach is interested in the job. Leach is a proponent of the aerial attack, so he would immediately get production from his personnel. However, he is involved in two ongoing lawsuits over the Adam James incident at Texas Tech. Would Love want to deal with that potential distraction?
• June Jones: Jones has won at Hawaii and SMU, and he's another offensive mind who can field a prolific offense right away. Even if the Mustangs move onto the Big East, ASU is clearly the better job.
• Noel Mazzone: Would Love stay in-house? The Sun Devils offensive coordinator had success this season even though the team imploded overall. Does he have a chance to get promoted after leading the 28th-best offense in the nation?
• Gary Andersen: Andersen is the Utah State head coach who has worked under Urban Meyer and Kyle Whittingham at Utah. The Aggies are 6-5 and will be going bowling this year, but his 14-21 overall record may not be able to win over the Sun Devils fan base. But he has rebuilt the Utah State program.
• Ron English: English, the Eastern Michigan head coach, played at California and was an assistant at Northern Arizona, San Diego State and Arizona State. So he has West Coast ties despite making a name for himself as the defensive coordinator for Lloyd Carr at Michigan. But his 8-28 record in Ypsilanti may be a hard sell, although he led the Eagles to a 6-6 record this year. And it's very tough to win at Eastern Michigan.
• Mark Helfrich: Helfrich, the offensive coordinator and quarterbacks coach at Oregon, is a rising head-coaching candidate at only 37 years old. He was an assistant at Boise State, Arizona State, Colorado and now at Oregon. ASU likely will want to go young, but he has no head coaching experience.
• Dave Christensen: Christensen has made an impact in just three seasons at Wyoming. The Cowboys really took a step back last season after a breakthrough 2009, but Christensen will likely have the team back in the postseason once again this year. He has experience as an offensive assistant under Gary Pinkel at Missouri and played for Don James at Washington, so he is familiar with the Pac-10/12.
Email dave.miller@nationalfootballpost.com or follow me on Twitter at Miller_Dave