September 09, 2014 -
Dave Miller
Possible replacements for Jones at SMU
June Jones decided to resign as head coach at Southern Methodist on Monday just two games into his seventh season in Dallas following a 45-0 loss to Baylor and a 43-6 setback to North Texas.
The Mustangs went to four consecutive bowl games under Jones, who rebuilt the program into being a respectable outfit. Agent Leigh Steinberg tweeted on Monday afternoon that Jones felt he had accomplished his mission to turn around the program and that he needed a break.
Defensive coordinator Tom Mason will take over the program on an interim basis and will make his debut a week from Saturday at home against Texas A&M.
Who might AD Rick Hart target once he begins his coaching search? It would be a surprise if the Mustangs hire an older veteran coach to replace Jones. Instead, I expect the school to bring in a younger program-builder, ideally with strong ties to the Texas high school circuit because the program needs a jolt of energy. Keep in mind that this is an attractive non-Power Five job because the program offers good resources in a major city.
Here is how I see the wish list shaping up for Hart and the Mustangs.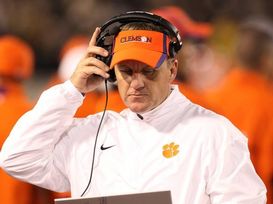 Could SMU lure Chad Morris away from Clemson?
Chad Morris: The list has to begin with the Clemson offensive coordinator, who would be able to come back to the state of Texas and be the face of a program. Morris really wanted the Vanderbilt gig when James Franklin left, and he's been confident for awhile now that he can run a major program. The one issue is that a source said that Morris believes he deserves an SEC/ACC/Big 12-type job. However, SMU could be an exception because of its location and resources. Morris could instantly succeed there and transition into a bigger job. Boosters are likely salivating at the idea of Morris representing the Mustangs on the recruiting trail, and money will not be a problem for this position. Morris went to school at Texas A&M and had a successful high school career coaching in the Lone Star State, winning back-to-back state titles in 2008-2009.
Jake Spavital: He's the fastest-rising assistant in the nation, as he's overseeing a Texas A&M offense that has not missed Johnny Manziel. Yes, the Aggies are as productive as ever without a former Heisman Trophy winner. The A&M offensive coordinator/quarterbacks coach could very well be the next Kliff Kingsbury. While there will still be skeptics about Kevin Sumlin and the idea that he produces "system QBs" (as well as QBs not having to call protections), the bottom line is that coaches like Spavital are going to increasingly become hot commodities because ADs across the country are seeing such offensive systems work. And they know high school players have taken notice of spread schemes with young program-builders. Spavital is only 29 years old, but his coaching stock is soaring, which is incredible considering he was a graduate assistant as recently as 2010. It's a bit of a risk because of his inexperience, but do not dismiss someone who has turned so many heads in a short amount of time.
Philip Montgomery: The Baylor offensive coordinator has been overseeing prolific offenses under Art Briles, but he still seems to go under the radar. Perhaps it's because he likes it that way, as he prefers being in the background and out of the spotlight. The fact that he doesn't have a big personality could hurt him with some ADs. Moreover, Montgomery is very close to Briles going back to their Houston days and could be comfortable remaining an assistant to Briles in Waco.
Tom Herman: The Ohio State offensive coordinator still has strong ties to the Lone Star State after being a graduate assistant at Texas and coaching at Sam Houston State, Texas State and Rice. He was handpicked by Urban Meyer when the former Florida coach took the head job in Columbus. Herman will be given the chance to be a head coach soon. Perhaps it will be in Dallas if Morris passes (assuming Morris gets the first call).
Lincoln Riley: The East Carolina offensive coordinator is a young, native Texan who coached at Texas Tech. He worked under Mike Leach and oversaw a Pirates offense in 2013 that ranked eighth in the country in scoring, led by quarterback Shane Carden. He may be more likely to be an OC at a bigger school first, but Hart could give him a look.
Note: The one veteran exception I could envision getting a look is Rick Neuheisel, whose son (Jack) is a receiver at SMU. I could see him charming Hart and the boosters. He was previously linked to the job in late 2007 when he was the offensive coordinator for the Baltimore Ravens.
Dave Miller, the college football editor for the National Football Post, is on Twitter @Miller_Dave.