November 29, 2011 -
Barry Dorey
Possible replacements for Neuheisel at UCLA
Rick Neuheisel was dismissed as UCLA's head coach after recording a 21-28 mark at his alma mater.
Athletic director Dan Guerrero made the change, which will go into effect after Neuheisel coaches the Bruins in Friday's Pac-12 title game. If the team scores a monumental upset of Oregon or wins its appeal for a bowl bid at 6-7, offensive coordinator Mike Johnson will coach the squad in the postseason.
If the Bruins want to compete annually with teams such as USC and Oregon in the Pac-12, it is going to need to make a serious financial commitment to the football program. Moving forward, who could be in line to replace the former Rose Bowl-winning Bruins quarterback?
The one big name I don't think will be in play is former Texas Tech head coach Mike Leach. I'm just not sure his personality would fit in well with Guerrero. But, of course, Leach is a winner.
Two names that I would call automatically? Jon Gruden and Pete Carroll. The worst they can do is say, "No thank you."
Here are some potential candidates:
• Chris Petersen: The Boise State head coach is the winningest active coach in FBS, and he'd likely head the list of any athletic director looking for a new leader of a program. But Petersen has stressed that he is comfortable at Boise, and the Broncos are headed for a better league in the Big East. But UCLA would certainly be an intriguing possibility if Petersen wants to finally make a move. But Guerrero would have to pony up some of that money that the Bruins will bring in from the Pac-12's new TV contract.
• Kevin Sumlin: The Houston head coach is likely the top candidate at Arizona State after leading the Cougars to an undefeated regular season. He's been linked to a variety of openings, but it would be fun to see how his offense would work in a bigger conference with even more skilled players.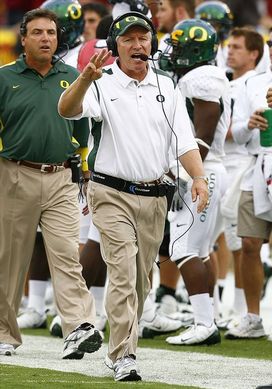 ICONCould Mike Bellotti be pacing up and down the sideline in 2012?
• Mike Bellotti: The former Oregon head coach led the Ducks to four 10-win seasons during his time in Eugene, and he has the itch to lead a program one more time. Westwood could be a destination for his final run, a program he could comfortably help stabilize and one that is in dire need of consistency.
• Butch Jones: The Cincinnati head coach could also be in play at Illinois, where his former athletic director Mike Thomas is searching for a new leader after firing Ron Zook. The Bearcats bounced back from a disastrous 2010 season, going 8-3 heading into the final weekend of the regular season this fall. And his defense is playing very well after an awful campaign last fall.
• Manny Diaz: The Texas defensive coordinator will be a head coach very soon. Will Guerrero give him a call? The former assistant at Middle Tennessee State, N.C. State and Mississippi State has the Longhorns ranked ninth nationally in total defense and are allowing only 21 points a game. He would bring an immediate new energy to Westwood and is a good recruiter. He just doesn't have West Coast ties.
• Willie Taggart: The Western Kentucky head coach stepped into a tough situation, as the Hilltoppers won just two games in the two seasons before his arrival. But after a 2-10 mark in his first year, his squad is 7-5 and possibly nearing a bowl bid. He has coached under Jim Harbaugh at Stanford, so he knows the West Coast, and he knows how to win under difficult circumstances.
• Sonny Dykes: The Louisiana Tech head coach has done very well in just two seasons, leading the Bulldogs to the WAC title this year. He has experience coaching in the Pac-12, as he was Mike Stoops' offensive coordinator at Arizona. While he only has two years of head coaching experience, his offensive mind would be a breath of fresh air in Westwood.
• Jack Del Rio: This is a reach, especially because he's still owed the remainder of his $5 million from this year and his $5 million next year after getting fired by Jacksonville. But the former Jaguars head coach is a Castro Valley native, and he played at USC. Many feel he would do well in the college game, and he'd have a chance to compete with his former college team for city supremacy. Still, it seems like too much of a risk for Guerrero, who has made some disappointing hires at UCLA.
Email dave.miller@nationalfootballpost.com or follow me on Twitter at Miller_Dave