November 05, 2012 -
Dave Miller
Possible replacements for Phillips at Kentucky
With the announcement that Joker Phillips will not return as head coach of Kentucky next season, the Wildcats have already started the search for his replacement.
So who could be in the mix to land in Lexington?
Let's take a look at some possible candidates for athletic director Mitch Barnhart.
Willie Taggart, Western Kentucky: This job is Taggart's to turn down, in my opinion. The Hilltoppers head coach was an assistant at Stanford and worked with Jim Harbaugh and David Shaw, and he has turned around WKU in a short amount of time, taking the program from 2-10 to 7-5. The team is 6-3 this fall, including a win over Phillips and Kentucky. He has done a lot with so little at WKU, and he has the program bowl-eligible for the first time in school history. His Stanford-style power run game would fit in well in the SEC.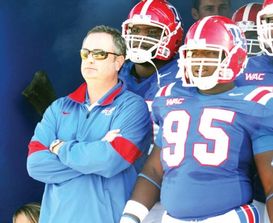 Sonny Dykes could parlay his strong season at Louisiana Tech into a bigger job. Will it be at Kentucky?
Sonny Dykes, Louisana Tech: Pat Forde of Yahoo! Sports reported on Sunday that Dykes is on Kentucky's list of potential candidates, but could he hold out for a bigger gig? Dykes has already led the Bulldogs to wins over Illinois and Virginia this fall, and his team was involved in a thriller in its only loss to Texas A&M. An SEC job is a great opportunity for Dykes, who was a graduate assistant at Kentucky under Hal Mumme in the 1990s. But his value will only continue to rise so it will be interesting to see how much interest he will have in this opening. Tech is 8-1 and second in the nation in scoring offense at 52 points per game.
Dirk Koetter, Atlanta Falcons offensive coordinator: Forde also reported that Koetter is on Kentucky's list of candidates. The former Boise State and Arizona State head coach was the one who helped get Boise started on its great run to success, as he went 26-10 with the Broncos from 1998-2000. He then went 40-34 in six seasons with the Sun Devils. He moved onto the NFL as a coordinator with Jacksonville for five years before moving to Atlanta this fall.
David Cutcliffe, Duke head coach: The former Tennessee assistant coach has ties to Barnhart and has had success as head coach at Mississippi and Duke. Those are two places where it has been difficult to win, so he certainly would understand the similar situation in Lexington. There is some buzz around the Duke program now, so Cutcliffe's value is high.
Gus Malzahn, Arkansas State: Malzahn left his gig as Auburn offensive coordinator when he was hired this past offseason by Arkansas State, but a lot of people were surprised that he would accept a gig coaching a Sun Belt team. He is an Arkansas native, so he may not want to leave after one season with the Red Wolves. But Kentucky is an SEC program, so he would have to listen if Barnhart called.
Phil Fulmer, former Tennessee head coach: If Barnhart wants to make a splash that doesn't involve bringing in Bobby Petrino, hiring Fulmer could be the way to go. Barnhart was an assistant athletic director at Tennessee from 1986-98, a time that included Fulmer winning a national championship. Fulmer, though, has been away from the sidelines for four years after a rough ending to his tenure with the Vols. But he really wanted the Arkansas job when it opened this past spring. Would he be interested in the Kentucky opening?
Others who could be on the radar: Florida OC Brent Pease and Texas Tech OC Neal Brown
Email dave.miller@nationalfootballpost.com or follow me on Twitter at Miller_Dave