November 24, 2012 -
Dave Miller
Possible replacements for Smith at Arkansas
With the announcement from Arkansas on Saturday morning that John L. Smith officially won't be the head coach at the school in 2013, the Razorbacks will soon announce his replacement. And according to Dennis Dodd of CBSSports.com, the Hogs will have a new face of the program within 10 days.
"I have great respect for Coach Smith and I thank him for the sincere commitment he has shown our program," athletic director Jeff Long said in a statement. "He made a difficult decision in uncertain times to return from his alma mater to guide the young men in our football program, and I will always be grateful for his efforts."
So who could be in the mix to land in Fayetteville?
Let's take a look at some possible candidates for Long and the Hogs.
Gary Patterson, TCU head coach: Patterson has rejected overtures in the past, and the Horned Frogs now have stability in the Big 12. But if there was ever a time for Patterson to take on a new challenge, it would be now. He has taken the TCU program to the very top, but would he like to try to do the same on a bigger stage? That would be the question he has to ask himself at this point in his career. He was a popular choice to land at Tennessee before Lane Kiffin landed the gig, so he could be in play for the opening in Knoxville as well. But would he leave the state of Texas? It could be tough to say no if offered by an SEC school this time around. And if a school is able to land him, it will get a coach that has overseen the nation's top defense three times in the last five years.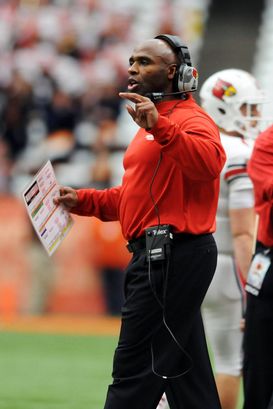 US PRESSWIREWould Charlie Strong consider a return to his home state if offered the job?
Charlie Strong, Louisville head coach: Strong will be in demand, particularly at Arkansas, where he is likely very high on Long's list of candidates to replace Smith. Tennessee is a better job than Arkansas, however, and he likely is a top candidate in Knoxville as well. Strong has had great success as an SEC assistant coach, and he is taking Louisville to great heights. He maintains that he wants to stay with the Cardinals, but no one really wants to coach in an unstable Big East. Also keep an eye on Strong for the Cal opening as well, as he was a finalist for the job years ago before Jeff Tedford was hired.
Tommy Tuberville, Texas Tech head coach: Not too long ago at the NFP, I made my case for why Tuberville would be the perfect choice for the Hogs. You can read the piece here. The Red Raiders head coach, Arkansas native and former player at Southern Arkansas has SEC West experiences with Ole Miss and Auburn from 1995 to 2008, and he has a staff under him right now that could be successful in the nation's toughest conference. Offensive coordinator Neal Brown will be up for lower-tier head openings this offseason, but he could also take his time and build on his rising status to possibly get a bigger job down the road. Meanwhile, Tuberville finally found a defensive coordinator in Art Kaufman that has been able to work wonders with a once-porous Tech defense. And as an added bonus, Tuberville has recruiting ties to the state of Texas. Arkansas would be a great landing spot for him.
Also keep an eye on:
Oklahoma State's Mike Gundy, Nebraska's Bo Pelini and former Tennessee head coach Phillip Fulmer.
Arkansas would love to hire either one of these individuals, but it's not likely:
Jon Gruden, current NFL analyst: No matter what anyone thinks about his coaching credentials or his personality, Gruden is the holy grail of coaching candidates. And he likely was Long's first phone call. It is becoming increasingly clear that if Gruden is to leave the MNF booth, it will be for a college job despite the fact that I still hear he remains in play for the Cleveland Browns gig. Gruden is the popular choice among most fans of teams looking for a new head coach. But will Long be able to woo him to Fayetteville? Is Gruden holding out for the job with the Vols?
Chris Petersen, Boise State head coach: Based on everyone I have talked to in the past, Petersen would only leave Bosie State for one job: Oregon. However, the Cal opening is intriguing to Petersen as well, according to one source. How attractive is an SEC job at Arkansas to the Boise State head coach? Likely not too attractive.
Because Long is expected to name a new head coach within 10 days, he likely knows who it will be already. It will be interesting to see who lands in Fayetteville and how quickly he can win at a program whose cupboard isn't exactly bare. However, the morale has never been lower at the school after a disastrous 2012 campaign.
Email dave.miller@nationalfootballpost.com or follow me on Twitter at Miller_Dave