October 11, 2011 -
Dave Miller
Possible replacements for Stoops at Arizona
Arizona athletic director Greg Byrne pulled the plug on the Mike Stoops era on Monday, firing the head coach after the Wildcats began the season with a 1-5 mark. In seven-plus seasons in Tucson, Stoops went 41-50.
So where do the Wildcats go from here? Byrne's last football hire came in 2008, when he was at Mississippi State and hired Dan Mullen away from Florida.
"It will be exhaustive in all our research to find the best fit and the best person," Byrne said. "After today, I won't speak about our search until we have a new coach."
Byrne hopes to have a new leader in place by mid-December. Until then, we can speculate on who could be coming to Tucson. And money, apparently, will not be a problem.
"We need to be competitive. That is critical," Byrne said, when asked about how much Arizona can pay a new head coach. "It is the marketplace, if you like it or not. You have to be competitive."
It will cost the Wildcats around $1.4 million to buy out the remaining two years on Stoops' contract.
Here are some potential candidates: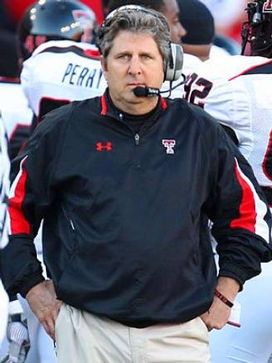 Could Mike Leach be a fit in Tucson?
• Mike Leach: The good news for the Wildcats is their offense is productive. Even with Nick Foles moving on after this season, they have good depth at the quarterback position. So scoring points won't be a problem in 2012. Leach is a proponent of the aerial attack, so he would immediately get production from his personnel. However, he is involved in two ongoing lawsuits over the Adam James incident at Texas Tech. Would Byrne want to deal with that potential distraction?
• Rich Rodriguez: Rodriguez was done in by his poor defenses during his time in Ann Arbor. But the fact is that his offense started to click once Denard Robinson assumed starting duties. He was successful running Clemson's offense and as the head man at West Virginia. Again, Arizona will have pieces in place on offense if they want an offensive-minded coach.
• Kevin Sumlin: The Houston head coach is ready for a bigger job, and his Cougars remain undefeated after six weeks of the season. He is another offensive wizard who will have no trouble fielding prolific offenses, as he has done at every stop in his career.
• Chris Petersen: Petersen turned down overtures from Stanford last offseason to remain with the Broncos, and he clearly can get a bigger job. But Arizona does play in a BCS conference, and Byrne and Petersen have a relationship from their time spent at Oregon.
• Gary Patterson: In my opinion, Arizona should hire a defensive coach because the Wildcats will never compete for a Pac-12 title with such a porous defensive unit. Patterson, who is in his 11th season with TCU, would be a home run hire. But the Horned Frogs are headed to the Big 12, which has an automatic BCS bid, and Patterson could get a bigger gig.
• Mike Bellotti: The former Oregon head coach knows the conference well and still has the enthusiasm to lead a program. He can instantly make the Wildcats a bowl-eligible football team.
• Paul Petrino: The Illinois offensive coordinator is one of the hotter assistant coaching names on the market for the work he has done in Champaign with young Illini quarterback Nathan Scheelhaase. He's ready for a head gig.
Email dave.miller@nationalfootballpost.com or follow me on Twitter at Miller_Dave