January 05, 2014 -
Dave Miller
Possible replacements for Strong at Louisville
Subscribe to the "Against the Grain with Dave Miller" podcast in iTunes
With Charlie Strong leaving Louisville to replace Mack Brown at Texas, where will the Cardinals turn to find their next head coach?
"I'm a big person that believes in fit," athletic director Tom Jurich said on Sunday. "I want somebody that fits here. You always say you want somebody who wants to be here. Does that mean five minutes? Five years? Five days? I want somebody who will look at this job as a true destination job, look at it as a long-term process. Somebody that wants to build it the right way and continue to build what Charlie did."
Here is how I see the wish list shaping up for Jurich and the Cardinals.
Chad Morris: The Clemson offensive coordinator is one of the best OC's in the game, as he has turned the Tigers into an offensive machine since arriving after one year at Tulsa following a long tenure in the Texas high school ranks. He essentially helped save Dabo Swinney's job a few seasons ago when he installed his up-tempo offense that has been very productive behind quarterback Tajh Boyd. He's making a pretty penny in his current role, but Louisville would be an outstanding landing spot for a first head gig in the college ranks. Of course, coaches such as Art Briles and Gus Malzahn have had great success moving from high school head coach to college coordinator to BCS-level head coach.
Pat Narduzzi: He is the nation's top defensive coordinator, and Louisville is a step above some of the other jobs he has been up for the last few offseasons. If you saw Michigan State play even once in the last few seasons, you know how athletic and hard-nosed the Spartans have been on defense. In addition to being a savvy defensive mind, Narduzzi is also a very good recruiter. He has shown he's comfortable in East Lansing because he has turned down jobs in the past, but he would quickly make the Cardinals one of the top defensive teams in the ACC when they join the new league.
Kirby Smart: We know that Nick Saban has a hand in a lot of what the Crimson Tide do on defense, but Smart is one of the best defensive minds in the country who gets overshadowed at times by his successful head coach. He's the highest-paid DC in college football because he has a hand in developing so many NFL players year in and year out while cultivating unique ways to make the 'Bama defense consistently one of the best units in the nation. He has seemingly been waiting for the right opportunity — and a big opportunity — before leaving the Tide for a head gig.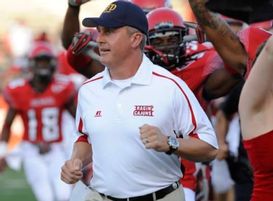 It's only a matter of time before Mark Hudspeth gets a bigger head gig.
Mark Hudspeth: Louisiana-Lafayette's head coach has compiled a 93-33 record in his career, including a 27-12 mark in Lafayette. He has taken the program to three New Orleans Bowl games and won each one. His previous stop at North Alabama saw him record five seasons out of seven with double-digit wins. I believe that Hudspeth is a future SEC head coach, but Louisville would be an incredible opportunity for him.
Matt Wells: In his first season as head coach after taking over for Gary Andersen at Utah State, the rising young coach won nine games with the Aggies (including a Poinsettia Bowl victory) despite losing star dual-threat quarterback Chuckie Keeton around midseason. The 40-year-old is making just over $500,000, so he can be had at the right price. And he has already had a stop at Louisville, working in 2009 as the quarterbacks coach and passing game coordinator. But will his tie to the Steve Kragthorpe era hurt his case?
Pete Lembo: The Ball State head coach went 10-2 this season and has his team in Sunday's GoDaddy Bowl. He has a 104-48 record over his 13-year coaching career, as he has won everywhere including Lehigh and Elon (one losing season in 13 years as a head coach). The offensive mind would bring an exciting brand of football to Papa John's Cardinal Stadium.
Tom Herman: The offensive coordinator under Urban Meyer at Ohio State is ready to be the face of his own program. He has strong Texas ties but was able to succeed on the national stage as Paul Rhoads' coordinator at Iowa State before moving onto Columbus. He's not yet 40 years old, and he knows the state of Ohio very well, and that's obviously an area Louisville hits.
Derek Mason: The Stanford defensive coordinator should have been in the mix for more head openings the last few offseasons, but he is very likely in play with the Cardinals. He played cornerback at Northern Arizona from 1989 to 1992, and Jurich was AD there during that time. Strong built Louisville on the defensive side of the ball. Mason would continue that trend, but he would need to make stronger non-West Coast ties on the recruiting trail.
Others who could be on the radar: Louisville OC Shawn Watson, Colorado State head coach Jim McElwain and Cincinnati Bengals OC Jay Gruden.
Dave Miller, the college football editor and writer for the National Football Post, is on Twitter @Miller_Dave.