September 29, 2014 -
Dave Miller
Possible replacements for Weis at Kansas
Kansas pulled the plug on the Charlie Weis era early Sunday morning, dismissing its head coach after the team's 23-0 home loss to Texas.
The former Notre Dame head coach and Florida offensive coordinator finished 6-22 in Lawrence, winning just one Big 12 game in two-plus seasons.
Athletic director Sheahon Zenger announced that defensive coordinator Clint Bowen will take over as the interim head coach.
So where do the Jayhawks go from here?
The program likely would prefer that the next head coach have ties to the school, but most importantly have ties to the state of Texas for recruiting purposes. It also has to be able to afford a new head coach, as Weis will still get around $7 million from the Jayhawks. So it's going to be interesting how Kansas approaches this hiring.
Being the program-builder in Lawrence is a tough gig. Very tough. However, we've seen near-miraculous restoration jobs in college football before. So the school will need to land someone who truly wants to take a risk, knowing that it will be an uphill battle to make the Jayhawks a competitive Big 12 outfit, a team worthy of minor bowl consideration and a school that can compete with the state's actual winning football team, Kansas State. Remember, the Jayhawks did have success under Mark Mangino.
Here are some coaches that Zenger could approach about the opening.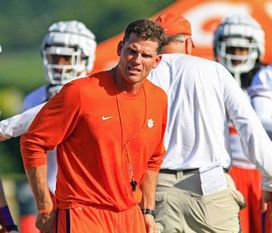 Could Brent Venables be in the mix for the Kansas head gig?
Brent Venables: The Clemson defensive coordinator is a Kansas native who can bring some energy to the program and to the recruiting trails. He played at archrival Kansas State, but that wouldn't thwart any interest on either side.
Josh Heupel: The Oklahoma offensive coordinator is young (36 years old) and oversees a prolific Sooners offense. And Jayhawk fans know all too well about lackluster offenses. He could be in play at SMU, as well. I was told this offseason that Heupel is on the radar of a lot of ADs across the country.
David Beaty: The Texas A&M receivers coach/recruiting coordinator is a hot name as the Aggies continue to have success in the SEC. He was Mark Mangino's receivers coach in 2008-09 and also Turner Gill's co-offensive coordinator in 2011. Those stints don't hurt him, though, because he is held in high regard and is a relentless recruiter. He would get talent from Texas.
Ed Orgeron: The Ole Miss stint is forgotten after his strong finish last season after taking over for Lane Kiffin at USC. His personality is huge and his recruiting speaks for itself. If he lands the right OC, it just may work in Lawrence.
Dana Dimel: The Kansas State co-offensive coordinator is close with Zenger, and he's enjoying a good run with K-State. He recruited well at Houston despite not having success as head coach there, but many of those players eventually had success under Art Briles.
Ed Warinner: The Ohio State offensive line coach/co-offensive coordinator was Mangino's OC during the team's 2007 12-1 Orange Bowl campaign. He can get recruits from the Lone Star State and field an offense that can score points.
Tom Herman: The Ohio State offensive coordinator has strong ties to Texas and was handpicked by Urban Meyer when the former Florida coach took the head job in Columbus. Herman will be given the chance to be a head coach soon. Perhaps it will be in Lawrence.
Tim Beck: The Nebraska offensive coordinator was a Kansas assistant in the mid-2000s, and he is becoming a hotter name with Nebraska's success this season. He has also recruited Texas well.
Dave Miller, the college football editor for the National Football Post, is on Twitter @Miller_Dave.