November 30, 2011 -
Dave Miller
Possible replacements for Zook at Illinois
Illinois dismissed Ron Zook on Sunday morning after the former Florida head coach concluded his seventh season with a 34-51 record in Champaign.
Zook led the Illini to two bowl games in his tenure, including an appearance in the Rose Bowl, but he struggled to maintain a consistent winning program. Several off-the-field incidents involving his players also marred his tenure, and he never could quite win over a certain segment of the Illini's fan base.
Which direction will new athletic director Mike Thomas go as he looks to make his first hire since coming over from Cincinnati?
Here are some potential candidates:
• Butch Jones: Thomas hired Jones as the Cincinnati head coach while he was the Bearcats' athletic director. Cincy bounced back from a disastrous 2010 season, going 8-3 heading into the final weekend of the regular season this fall. And Jones has had his defense playing very well throughout the season after an awful campaign last year. Certainly, Thomas knows what he's getting with Jones after going through the interview process once before.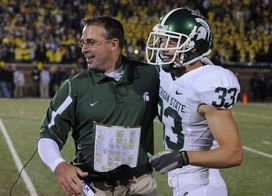 Is Michigan State defensive coordinator Pat Narduzzi ready for a head-coaching gig?
• Pat Narduzzi: The Michigan State defensive coordinator served in the same role at Cincinnati during Thomas' tenure as AD. He was at Cincy from 2004-06, which overlapped with the Thomas era that began in 2005. Since 2007, he has served as the Spartans' DC. MSU is ranked third nationally in total defense, and the Illini's defense has been the strength of the team this fall. Narduzzi knows the state after working as Northern Illinois' linebackers coach from 2000-02, but he doesn't have head coaching experience. And Thomas said he typically prefers head experience when making such hires.
• Greg Schiano: The Rutgers head coach knows the state of Illinois after serving as a Chicago Bears defensive assistant under Dave Wannstedt. Since 2001 he has led the Scarlet Knights, and he had the team competing annually for the Big East title from 2005-09, when they played in five straight bowl games. After struggling through a 4-8 mark last season, Schiano made widespread changes across the defense and the team rebounded with an 8-4 season. But his salary is nearly $2.2 million per year, and Zook was paid $1.75 million per season. And don't forget Zook will be owed $2.6 million over the next two years as part of his buyout.
• Tim Beckman: The Toledo head coach inherited a 3-9 squad but has the Rockets on the cusp of a bowl berth for the second consecutive season after a 5-7 debut campaign in 2009. He has Big Ten experience, serving as the cornerbacks coach at Ohio State, and he was Oklahoma State's defensive coordinator in 2007-08. He's a winner with the experience Thomas seeks in a candidate.
• Paul Chryst: The Wisconsin offensive coordinator has been linked to other jobs in the past, but he seems very comfortable running his prolific offense in Madison. Chryst is in his second stint at Wisconsin, having coached the tight ends in 2002 before moving onto Oregon State in 2003 and '04. He rejoined UW as the co-offensive coordinator in 2005 and took over as sole offensive coordinator in 2006. He's ready to be a head coach, but is he willing to listen to a serious offer?
• Steve Addazio: The Temple head coach has experience coaching in the Midwest after serving as an assistant at Notre Dame and Indiana. He worked under Urban Meyer at Florida as an offensive assistant and was a component of two BCS national championship teams. This season, he surprised the college football world by leading Temple to an 8-4 season.
• Willie Taggart: The Western Kentucky head coach took over a program that had won just two games in the two seasons before his arrival. But after a 2-10 mark in his first year, the Hilltoppers are 7-5 and possibly nearing a bowl bid. He has coached under Jim Harbaugh at Stanford, and he knows how to win under difficult circumstances.
Email dave.miller@nationalfootballpost.com or follow me on Twitter at Miller_Dave