December 15, 2014 -
Dave Miller
Potential 2015 Heisman Trophy contenders
Marcus Mariota cruised to a Heisman Trophy victory on Saturday night in New York City, as he claimed the 80th edition of the award by receiving twice as many points as second-place finisher Melvin Gordon of Wisconsin. Alabama receiver Amari Cooper was third in the race.
So let's assume that Mariota gives up his final season of eligibility and enters the 2015 NFL Draft, and let's also assume that top stars such as Gordon, Cooper, Jameis Winston, Brett Hundley, Tevin Coleman, Todd Gurley and T.J. Yeldon move onto the NFL as well. Which players, based off of this year's numbers and their potential, could be in the mix for the sport's most prestigious individual award next year?
Let's take a way-too-early look at some of the best-positioned candidates for 2015.
Trevone Boykin, QB, TCU: He arguably should have received an invite to the Heisman festivities on Saturday night, so one would assume that a second year in the new and improved Horned Frogs offense would put him in position to be one of the top contenders for the honor in 2015. He finished fourth in this year's balloting and is the key piece to TCU's Big 12 title and College Football Playoff hopes next season. Boykin has thrown for 3,714 yards and 30 touchdowns and rushed for 642 yards and eight more scores this season, so similar numbers next year could net him an invite to New York.
J.T. Barrett/Braxton Miller/Cardale Jones, QB, Ohio State: I'm serious. No matter who is running Urban Meyer's Power Spread scheme in Columbus next year has a shot to win this award. I have maintained that there is no way that Barrett doesn't start next year, as he easily could have been a Heisman finalist this season if not for the ankle injury he suffered in the win over Michigan (he finished fifth in this year's balloting). If he is the starter in 2015, he absolutely is a frontrunner. But Miller has another season of eligibility left. Will he stay or will he transfer for his final season? And Jones terrorized Wisconsin in the Big Ten title game. It could be a ridiculous quarterback situation in Columbus next fall.
Dak Prescott, QB, Mississippi State: Remember that the Bulldogs' dual-threat signal-caller was arguably the leader of this race for many weeks as Dan Mullen's squad made its way up the rankings. But Mariota was too dominant, the Bulldogs suffered their first loss to Alabama and his numbers dipped late in the year. He finished eighth in this year's balloting, but how much dropoff will Mississippi State have as it looks to remain a top West division squad? He was responsible for 37 touchdowns this season so he should put up numbers no matter how MSU fares in the standings.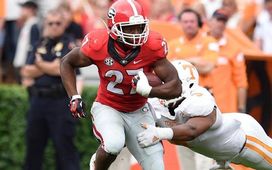 Nick Chubb had seven straight 100-yard games to finish the 2014 campaign.
Nick Chubb, RB, Georgia: Did you see the way he ran his freshman season? He will be the most intriguing running back in the SEC next year for a team that should compete for the league crown. Chubb looked like a veteran when he was inserted into the lineup after Todd Gurley's injury and should continue to run with authority in 2015. He had seven straight 100-yard games to finish the year and averaged an SEC-high 6.9 yards per carry. He is athletic, powerful and a load to bring down.
Royce Freeman, RB, Oregon: Marcus Mariota became the first Duck to win the Heisman on Saturday night. Can Mark Helfrich's squad have a repeat winner? The soon-to-be sophomore should receive plenty of carries as the team breaks in a new QB. He had 1,299 yards this year and is a different type of back that the Ducks are used to employing.
Cody Kessler, QB, USC: He may have had the best under-the-radar season of any USC quarterback in program history, as he passed for more than 3,500 yards and 36 touchdowns. He will have a chance to be the best candidate of any West Coast player because he should put up big numbers in his second season under Steve Sarkisian.
Samaje Perine, RB, Oklahoma: All you need to know is the Sooner broke the single-game rushing record when he had 427 yards (and five touchdowns) against Kansas in Week 13. He has made OU fans forget about Joe Mixon and should be a centerpiece of the offense next fall after putting up nearly 1,600 yards on the ground this season.
Anu Solomon, QB, Arizona: The young Wildcat has put up 3,458 passing yards and 27 touchdowns in his first season as the starter in the desert. Keep in mind that Rich Rodriguez had a Heisman contender in Pat White, so Solomon will have a chance to put up similar or even bigger numbers next season. And his candidacy will be strong if Arizona has another nice season in 2015.
Other names to keep an eye on: LSU RB Leonard Fournette, Clemson QB Deshaun Watson, Navy QB Keenan Reynolds, Florida State RB Dalvin Cook, Ole Miss WR Laquon Treadwell, Alabama RB Derrick Henry and Pitt RB James Conner.
Dave Miller, the college football editor for the National Football Post, is on Twitter @Miller_Dave.