January 30, 2013 -
Dave Miller
Programs to keep an eye on before Signing Day
With National Signing Day exactly one week away, here are five teams that we should keep an eye on as they try to keep their current pledges and add top uncommitted prospects to their 2013 hauls.
Ole Miss: We know that Hugh Freeze is the talk of the nation because of the star-studded haul he is set to bring into Oxford on the heels of a 7-6 debut campaign. The Rebels will likely sign their best class in school history if the nation's top overall player, defensive end Robert Nkemdiche, commits as expected. The No. 1 wide receiver in the nation, Laquon Treadwell, and Top 5 defensive end, Elijah Daniel, recently gave their verbal pledges, and they remain in the mix for No. 1 offensive tackle Laremy Tunsil and top safety Tony Conner, among others. It's amazing that not too long ago Freeze was coaching high school football and now he is on the cusp of a Top 10 and possibly Top 5 2013 class.
USC: The Trojans were always going to have a small class, but it looked like a star-studded haul heading into the 2012 season. However, Lane Kiffin and his staff need to recover from a flurry of decommitments, including Top 5 defensive tackle Eddie Vanderdoes, athlete Max Redfield, wide receiver Sebastian LaRue and defensive end Kylie Fitts. The staff was able to land safety Leon McQuay III, which was big. He joins fellow star safety Su'a Cravens. And defensive tackle Kenny Bigelow, outside linebacker Michael Hutchings and cornerback Jalen Ramsey are arguably Top 5 players at their positions. But 'SC must close strong down the stretch. Again, it's going to be a small class because of scholarship limitations. But that just means that the program has to hit on its high-quality talent that it does bring in. Can Kiffin and Co. close strong?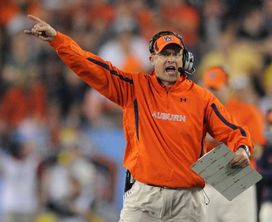 Gus Malzahn is putting together his first recruiting class as head coach at Auburn.
Auburn: The Tigers are one of the more intriguing programs heading into Signing Day because all eyes are on new head coach Gus Malzahn as he returns to The Plains after a one-year hiatus as head coach at Arkansas State. Auburn once had verbals from arguably three of the nation's top 15 prospects, and only defensive end Carl Lawson remains of the trio. And keeping him could be challenging. Malzahn will be able to re-install his offense and get pieces to plug in and make the unit effective. But the Tigers need impact defenders, as well. So it will be interesting to see if Lawson remains committed and if the Tigers can get one or two high-quality linemen or linebackers to help out new DC Ellis Johnson.
Texas: Usually for Mack Brown and the Longhorns, they are looking ahead to the next recruiting class around this time of year because they always stock up on in-state recruits very early in the cycle. But with the program suffering some decommitments following another unsatisfactory season, there is work to be done in Austin. Both sides of the line look to be solid, but defensive tackle Andrew Billings is still a top target. The offensive line, though, looks stout with commitments from top center Darius James and tackles Kent Perkins and Jake Raulerson. But the 'Horns would like to add a few more skill players for Major Applewhite's offense.
Clemson: Dabo Swinney and his staff have likely had a headache-filled offseason on the recruiting trail because their class seems to be more fluid than others. A Top 10 class isn't impossible to net, but they will need to close hard on Signing Day. Auburn's Lawson could flip, and defensive tackle Montravius Adams and offensive guard Tyrone Crowder would be dynamite "gets" for the Tigers. But there is intense competition for their signatures. The country's top cornerback, Mackensie Alexander, would be a valuable piece for Brent Venables and his defensive backfield, but he is in demand as well. As of now, defensive end Ebenezer Ogundeko, outside linebacker Dorian O'Daniel and inside linebacker Ben Boulware lead the way. All three are Top 10 players at their positions.