November 11, 2010 -
Dave Miller
Pryor on McGloin: 'I never heard of him'
Ohio State quarterback Terrelle Pryor discussed a number of topics during his conference call with reporters Wednesday. Here are some of the highlights as the Buckeyes prepare for their showdown Saturday with Joe Paterno's Penn State squad.
On tweeting about playing basketball: We into football season right now. No disrespect to you, but this is Penn State week. I'm sorry.
On this being Penn State week: How I look at it is like it's just another game. That's really what it is. It's nothing bigger, nothing smaller.
On how he's playing this season: I think I'm doing good. I think personally I'm playing pretty good, just taking care of the ball. But I think I need to, there's a couple picks I wish I could get back. But sometimes you throw the ball a lot, them things come. From here on out I've got to take care of the ball more.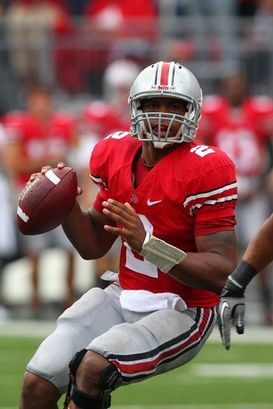 ICONOhio State QB Terrelle Pryor
His familiarity with Penn State quarterback Matt McGloin and if he's crossed paths with him: No sir, I never heard of him. Besides watching and just hearing about he's starting because we've got pictures all over the place on him. But besides that, no, I never heard of him. I'm usually focused on the defense. I've heard a lot about Bolden, though.
Being a top recruit and playing against a former walk-on in McGloin: Any time I get a chance to face Scrap, it's gonna be a battle and it's gonna be fun because I have one of the best recruiters that recruited me and one of my very good friends that I still stay close to. I don't really know McGloin, the kid that you're talking about. But any time I get a chance to play against a quarterback I try to win that battle, turnover margin and efficiency.
How is he different from last year: Decision making, I guess. You can make a list of that. I don't want to hold you guys that long. You can make a list of it. Any time you get a year in advance, you're gonna be better in a lot of things.
On reading coverages better: I could even read coverages last year. I just wasn't the best thrower. I didn't really take care of the ball a lot last year. I was just kind of like whipping it out.
Why he chose Ohio State over Penn State: I kind of wanted to go with Tressel because I got a better feeling about him, like I got an understanding like he's a stand-up guy. And to this point I trust him the same way I trusted him when I signed here. I would make this choice 100 out of 100 times. The things I've learned from Coach Tressel, I can't really take back any of that, so I'm kind of glad with that pick. And also, nothing against, I've said this before, I just wanted to be in a big-city type. Nothing against Penn State or anything like that.
On the 17-point line for this game: I didn't hear that. 17 points, I didn't know that. That puts fuel to their fire, I guess. I'm not really worried about it because we don't do no betting or anything like that.
Will he be back in college next year: Yes sir. I'm a Buckeye til I break all the records.
On his swagger: Sometimes it can get me in trouble, I guess, not on the field but off the field. I've just got such a strong mindset to myself. Not in a cocky way at all. I just carry myself in a certain way that I feel like, as hard as I work, I want to carry myself so my teammates know exactly where I'm coming from. I feel like I have swagger, and then [my teammates] see it in me and it brings onto the offensive side. We play very loose, and that's how the game should be played -- very fun and loose.
How they're playing post-Wisconsin: [The loss] refocused us, and the main thing, I think we had to get back to our techniques and get back to the mechanics, and that's what we did. Eventually it helped out, I think. We just had to get back to that after a loss and forget that loss and keep fighting and do whatever we can control. We can control the right now. That's the way we have to go about it.
Evaluating his development: Just growing into the position a little bit, growing and keeping, you're just seeing the same things and seeing the same things and your reactions are a little bit faster and you kind of know where to go with the ball. Also your footwork is a big deal because your feet lead to the throw.
On leaving early for the NFL: I don't know. Probably not. I don't think so. I don't think so. I feel like I just want to get my degree and finish off strong and maybe have an even better season next year and maybe have no losses. Right now we're at the end of this season. I love being here. I think I just need to develop more knowledge as a human being and not worry about money and stuff like that. My mom works a little bit and I can just use some of her money and the money that we get here, so I don't really have to worry about money, I guess. I can suffer another year. I just want to gain more knowledge as a human being and grow a little older as a human being so I can know what to do when I get out.
Email dave.miller@nationalfootballpost.com or follow me on Twitter at Miller_Dave