March 01, 2011 -
Dave Miller
Punk involved in Twitter war with Merriman
Shawne Merriman has publicly feuded with former defensive player of the year Jason Taylor as well as ex-girlfriend and reality TV star Tila Tequila. Now, the Buffalo Bills linebacker and three-time NFL Pro Bowler can add World Wrestling Entertainment superstar C.M. Punk to the list.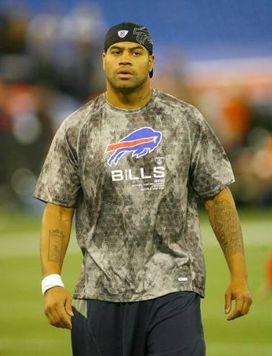 Is a career in the squared circle in Shawne Merriman's future?
The war began on Saturday when Punk tweeted, "Watching Shawne Merriman of the Buffalo Bills hit on our divas and strike out. Reminds me of the Bills in the Super Bowl." Merriman, who was in Costa Rica with WWE superstars and divas, tweeted back, "I was just giving you guys some hope. Look like you were struggling by the pool."
Punk responded, "If you could get to a QB as fast as you ran after our divas, maybe you'd make headlines being a Pro Bowler and not a creep." Merriman, whose nickname is "Lights Out" but who last made the Pro Bowl in 2007, shot back, "How about I come and deliver a nice special Lights Out (butt) woopin tonight Costa Rican Style?"
Punk, the leader of WWE's biggest heel stable, The Nexus, proclaimed victory in the Twitter feud. "Clearly, I have defeated you," he tweeted. "However, You will have plenty of time to think of a better come back while you ride the bench for another entire season." Merriman's response? "It's bad when I thought you worked at the hotel ... I almost handed you my f'ing towel. Go do some push ups," he tweeted. "Do me a favor (and) turn your little wrestling underwear around and give yourself a wedge."
Keep in mind that Merriman appeared at WWE's "One Night Stand" pay-per-view in 2008 and once said in an interview that a future in wrestling was "a possibility." Could these insults between Punk and Merriman be setting up a potential storyline to be played out in the ring at a later date? After all, Merriman's effectiveness on the field has been in a steady decline as the veteran has dealt with numerous injuries the last few years. Perhaps switching gears and trying a career in pro wrestling wouldn't be such a bad idea.
Follow the Daily Jolt on Twitter: Daily_Jolt
The Daily Jolt is a section of the National Football Post that serves as a one-stop shop for all things football, sports, pop culture, everyday life and more.
The section's editor, Dave Miller, also writes the Against the Grain college football column for the NFP. When he isn't putting coaches on the hot seat, he can often be found daydreaming of being the future Mr. Kara DioGuardi. You can follow him on Twitter at Miller_Dave.