August 06, 2011 -
Barry Dorey
QB competition at the forefront as ND opens camp
Preparations for the 2011 season will kick into high gear Saturday in South Bend as Notre Dame begins fall practice just four weeks before the Sept. 3 season opener against South Florida.
Who will line up under center for the Fighting Irish?
Well that remains to be seen. But head coach Brian Kelly said Friday that he will know who his starter will be by Aug. 22, which is the date of the team's 19th practice. At that point, the second-year face of the program will start game-planning for the Bulls.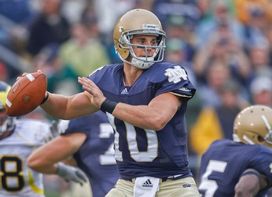 ICONDayne Crist is hoping to be the starting QB in South Bend in his final season.
"We're only going to use the first 19 practices for the evaluation process," Kelly said Friday, according to Brian Hamilton of the Chicago Tribune.
"We're going to spend two weeks on South Florida. We're going to know going into the last 10 days who the starting quarterback is, because we're going to rep that out for South Florida."
While Andrew Hendrix and Everett Golson will certainly get a look for the starting nod, the real competition centers on Dayne Crist and Tommy Rees, both of whom played during the 2010 season. Crist started nine games before a season-ending knee injury paved the way for Rees to take over. The Irish concluded the season on a four-game winning streak with Rees under center, including the Sun Bowl win over Miami, to finish Kelly's first campaign at 8-5.
The senior Crist would appear to be the frontrunner, and Kelly said Friday that Crist's "escapability" out of the pocket would be key to his running the offense successfully. While his spread attack works best with a quarterback who has dual-threat capabilities, Kelly said Crist "does not have to run the ball for us to be successful."
"It's really going to come down to the ability to run our offense at the pace and the tempo that we want to run it," Kelly said.
Crist has a stronger arm than Rees, but can he bounce back for a second consecutive year after a serious injury? His knowledge of Kelly's system should be expanded, but will he be able to translate that onto the field in his final season? Or will the moxie of Rees be enough to take him out on the field for the first offensive snap against Skip Holtz and Co.?
Email dave.miller@nationalfootballpost.com or follow me on Twitter at Miller_Dave