December 08, 2011 -
Dave Miller
Ranking the Bowls 1-35
Once again, the annual rankings of the bowl games from top to bottom, strongest to weakest...
1. BCS national championship (Jan. 9): LSU (13-0) vs. Alabama (11-1). We all want to know who the true national champion is, right? Well, that likely will still be debated by college football fans no matter who wins this slugfest. But in terms of pure pomp and circumstance, if there's one game to watch this postseason, it's this SEC showcase between the Tigers and the Crimson Tide.
2. Rose (Jan. 2): Oregon (11-2) vs. Wisconsin (11-2). I easily could have put the Fiesta Bowl No. 2 because it features two 1-loss teams with legit gripes of not being in New Orleans. But, I'm really interested to see if Ducks head coach Chip Kelly can finally get his non-Stanford signature win in Eugene. Throw in the beautiful skyline featuring the San Gabriel Mountains and you can't help but love "The Granddaddy of Them All."
3. Fiesta (Jan. 2): Oklahoma State (11-1) vs. Stanford (11-1). Will the Cowboys be focused for this game after losing out on their chance to face LSU? Absolutely. But if the Pokes want to finish the season with one loss, they will have to make sure Joseph Randle and Jeremy Smith get touches — whether it's on the ground or in the passing game out of the backfield. The Cowboys' defense relies on big plays, but Stanford quarterback Andrew Luck doesn't make many mistakes.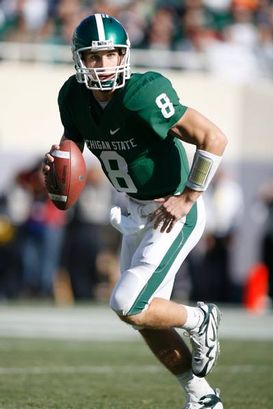 ICONKirk Cousins will try to end his career on a winning note against Georgia.
4. Outback (Jan. 2): Michigan State (10-3) vs. Georgia (10-3). We all remember what happened the last time the Spartans took on an SEC foe — they were smashed by Alabama last New Years in the Capital One Bowl. This season, Mark Dantonio's squad gets a Georgia team that held LSU without a first down in the first half of the SEC Championship game.
5. Cotton (Jan. 6): Arkansas (10-2) vs. Kansas State (10-2). Wildcats quarterback Collin Klein is perhaps the most underrated dual-threat signal-caller in the nation, and he'll be going up against a Razorbacks defense led by coordinator Willy Robinson, who will not be retained next season. Offensively, quarterback Tyler Wilson has seen the Alabama and LSU defenses, so he'll be ready for Arthur Brown and Co.
6. Orange (Jan. 4): Clemson (10-3) vs. West Virginia (9-3). These two teams can definitely frustrate their fan bases. The Tigers dropped three of their last four games before rebounding to beat Virginia Tech a second time for the ACC crown. Meanwhile, the Mountaineers needed help to claim the Big East despite being the most talented team in the league. Prolific offenses led by Chad Morris and Dana Holgorsen go head to head in what should be a fun game to watch.
7. Insight (Dec. 30): Oklahoma (9-3) vs. Iowa (7-5). There's no question that OU fans will be in unfamiliar territory playing a bowl game in December — we've been accustomed to seeing them compete on New Years Day or later. But Bob Stoops will have the Sooners ready for a physical Hawkeyes team that has played maddeningly inconsistent in 2011.
8. Sugar (Jan. 3): Virginia Tech (11-2) vs. Michigan (10-2). I would have loved to see Boise State in this spot, but Sugar Bowl officials went with the Hokies despite their embarrassing second half in the ACC title game. Denard Robinson is a rare talent, but it will be interesting to see what Virginia Tech defensive coordinator Bud Foster cooks up against this Al Borges offense.
9. Alamo (Dec. 29): Baylor (9-3) vs. Washington (7-5). We could be seeing the Heisman Trophy winner in this one, as RG III leads an exciting Baylor offense against a defense that has underachieved under coordinator Nick Holt. Meanwhile, counterpart Phil Bennett will have his hands full finding ways to stop Keith Price and the Huskies offense.
10. Capital One (Jan. 2): South Carolina (10-2) vs. Nebraska (9-3). With the losses of Marcus Lattimore and Stephen Garcia, Head Ball Coach may have done his best coaching job this fall since arriving in Columbia. Bo Pelini's Blackshirts have underwhelmed this season, but can Gamecocks quarterback Connor Shaw deliver another solid effort?
11. Holiday (Dec. 28): Cal (7-5) vs. Texas (7-5). With two Pac-12 teams in the BCS, Cal was elevated to the Holiday and will take on a Texas team coming off of a loss to Baylor. While Case McCoy struggled with turnovers his last outing, Texas has found its quarterback of the future. What will coordinator Clancy Pendergast have in store defensively for the Longhorns?
12. TicketCity (Jan. 2): Houston (12-1) vs. Penn State (9-3). The Cougars missed out on a BCS bid with their loss in the C-USA championship game, but we won't miss one final opportunity to see Case Keenum go up against one of the finest defenses in the nation.
13. MAACO Las Vegas (Dec. 22): Boise State (11-1) vs. Arizona State (6-6). The Sun Devils will be looking to send Dennis Erickson out with a win, but will they take Boise State seriously? With Kellen Moore in a big game, I'll take the Broncos.
14. Champs Sports (Dec. 29): Florida State (8-4) vs. Notre Dame (8-4). These storied programs may not have lived up to expectations this fall, but it's still Florida State-Notre Dame in a bowl game. Expect plenty of Andrew Hendrix in this one as Brian Kelly begins his 2012 quarterback duel a little early.
15. Gator (Jan. 2): Florida (6-6) vs. Ohio State (6-6). It's amazing that these teams are a combined 12-12, but it will be fun to see the Gators and the Buckeyes square off in the Urban Meyer Bowl. And it will be fun to see Buckeyes quarterback Braxton Miller, who will be a household name nationally for at least the next two seasons.
16. Chick-fil-A (Dec. 31): Virginia (8-4) vs. Auburn (7-5). The Tigers actually exceeded expectations by scratching out 7 wins this season. However, they can't move the ball through the air. And if they rely on the run with Mike Dyer in this one, they'll be tested by a stout Cavaliers rush defense.
17. Meineke Car Care (Dec. 31): Northwestern (6-6) vs. Texas A&M (6-6). One last chance to see Wildcats dual-threat quarterback Dan Persa, who should be healthier than at any point this season. The Aggies, meanwhile, will try not to blow yet another second-half lead.
CONTINUE TO PAGE 2 FOR MORE BOWL RANKINGS