February 03, 2011 -
Dave Miller
Ranking the top 25 recruiting classes of 2011
With a new national champion crowned and National Signing Day in the books, college football officially goes on hiatus until spring practice. Well, actually, there's still that Jadeveon Clowney decision on February 14 that will dramatically alter a major program's 2011 class.
But unless a big-name coach decides to bolt or a new NCAA investigation opens, all will be quiet on the college football front — unless you're a prospect preparing for the NFL draft. But for the rest of the college football world, it's back to hitting the books full time.
In the meantime, here are the National Football Post's top recruiting classes of 2011.
Top recruiting classes of 2011
The Big 15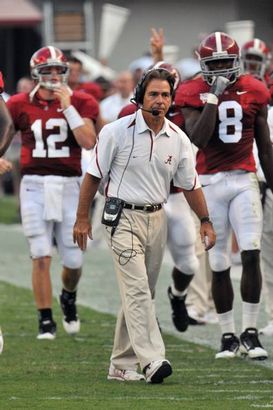 ICONNick Saban has brought another talented class to Tuscaloosa.
1. Alabama: Nick Saban never met a signing class he didn't like. Defensive end Jeoffrey Pagan, who is perfect for the 3-4 scheme, outside linebacker Brent Calloway, safety Ha'Sean Clinton-Dix and defensive end Xzavier Dickson lead a haul that includes four wide receivers, led by top recruits Bradley Sylve and Marvin Shinn. Backfield depth was taken care of in the form of top-10 running back Demetrius Hart, and Trey DePriest is one of the top outside linebackers in the nation. While this current crop of talent is strong, the Crimson Tide still could be in play for Cyrus Kouandjio and/or Jadeveon Clowney. Now how about that?
2. Florida State: Jimbo Fisher had a successful recruiting season in 2010, which was quite impressive considering he had just inherited the program from Bobby Bowden. But this year is where he truly made his mark, compiling a list filled with great depth and speed. Defensive tackle Tim Jernigan and tight end Nick O'Leary were added on signing day to an already loaded class, which featured very intriguing defensive backs. While some of these recruits ultimately can switch positions, stud safety Karlos Williams has the size, physicality and athleticism to become an impact player immediately in Tallahassee. Offensive tackles Bobby Hart and Jordan Prestwood were also big gains, along with athlete James Wilder, who will play running back but could also fit at linebacker.
3. Texas: Despite a 5-7 season and a coaching staff that remained in flux for most of the offseason, Mack Brown was able to get 21 of 22 commitments from players within the great state of Texas — including stud running back Malcolm Brown and shutdown cornerback Quandre Diggs. The Longhorns lost Arizona's star offensive tackle Christian Westerman to Auburn, but they were able to hang onto all of their recruits who committed very early in this period — when the club was coming off its national championship berth. Brown is a difference-maker who could be the answer to the team's woes in the backfield, while Diggs, defensive tackle Desmond Jackson and inside linebacker Steve Edmond should contribute sooner rather than later on defense.
4. Auburn: It's been quite a year for Gene Chizik. A solid recruiting season in 2010, a national championship fueled by two former junior-college transfers in Cam Newton and Nick Fairley, and now a dominant 2011 signing class. But did Cyrus Kouandjio get away? After it was reported that he chose the Tigers over Alabama and New Mexico, it appears that Kouandjio did not yet fax in his paperwork to the school. We'll see how this develops, but the Tigers still snagged fellow offensive tackle Christian Westerman and hard-hitting safety Erique Florence. In addition, Chizik added dual-threat quarterback Kiehl Frazier, center Reese Dismukes and offensive guard Thomas O'Reilly — all Under Armour All-Americans. Athlete Quan Bray is very fast and possesses great quickness, so he should be effective no matter where he plays. Georgia signee Isaiah Crowell's teammate, Gabe Wright, is one of the best defensive tackles in the nation, and cornerback decommitment Marcus Roberson was replaced by coveted Mississippi athlete Jermaine Whitehead, who had committed to Dan Mullen and Mississippi State.
5. USC: As I wrote earlier in the week, Lane Kiffin had designs on his 2011 class being one of the best in recent memory. With the program's appeal of NCAA sanctions not yet complete, the Trojans operated with intensity on the recruiting trail. The nation's top receiver, George Farmer, is already enrolled, while quarterback Max Wittek is the team's future starting signal-caller. Recent additions Amir Carlisle and Anthony Sarao both left Stanford, weakening a Pac-10 rival, while Under Armour All-American defensive tackle Antwaun Woods excels against the run and pass.
6. LSU: Les Miles did most of his damage in-state, and why not? When Louisiana is filled with gifted players, there's no reason to stray from such a talented crop. Defensive tackle Anthony Johnson and offensive tackle La'El Collins are studs, with Johnson looking like the prototypical disruptive Tigers pass-rusher that fans are used to and Collins possessing the skills to anchor the left side. Jarvis Landry could make an immediate impact as a receiver and in the return game, while the Tigers added even more depth to a filthy backfield — Kenny Hilliard and Jeremy Hill could fight for carries as the season progresses because Miles isn't afraid to employ young backs.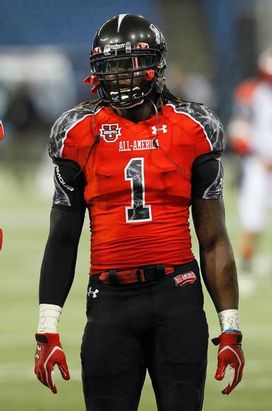 ICONRB Isaiah Crowell is the gem of Georgia's class.
7. Georgia: Simply put, Mark Richt has his Dream Team. The Bulldogs head coach did some major damage on the recruiting trail during this signing period, and his was punctuated with the snagging of stud prospect Isaiah Crowell. Perhaps the best running back in the country, Crowell joined tight end Jay Rome, receiver/defensive back Malcolm Mitchell and defensive end Ray Drew — all in-state products — as the cornerstones of the 2011 class. Crowell's speed and strength will get him on the field early in Athens while Drew, nicknamed the Pastor of Pass Rush, could be a difference-maker because of his size and athleticism. Massive offensive tackle Watts Dantzler and quarterback Christian LeMay also highlight this class, which could get even stronger if the Dawgs can add nose guard John Jenkins from Mississippi Gulf Coast College, who will make official his school of choice on Saturday.
8. Notre Dame: Many Fighting Irish fans are probably sick of hearing about their highly touted recruiting classes, because they usually don't end up producing. But this time around, it just feels different. When head coach Brian Kelly and defensive coordinator Bob Diaco talk, you want to listen. And the fact of the matter is that, defensively, this class is one of the team's most intriguing since the early 1990's — and arguably features the best group of defensive linemen in the country. Aaron Lynch and Stephon Tuitt give the Irish top pass-rush threats while fellow ends Ishaq Williams and Anthony Rabasa should fit nicely at outside linebacker in the team's 3-4 scheme. Offensive tackle Matthew Hegarty, pass-catching tight end Ben Koyack and receiver DaVaris Daniels, the son of NFL'er Phillip Daniels, highlight a top-10 class for Kelly.
9. Clemson: Somehow, Dabo Swinney worked wonders this season on the recruiting trail. The Tigers landed a pair of top linebackers in Tony Steward and Stephone Anthony, who will fit perfectly into the team's Green Bay Packers-like defense. And remember that atrocious Clemson offense in 2010? Well, Swinney did his best to upgrade the unit with a pair of top receivers in Charone Peake and Sammy Watkins. And the Tigers also signed running back Mike Bellamy, who has drawn comparisons to former Tiger C.J. Spiller because he is one of the fastest and most explosive backs in 2011.
10. Ohio State: Jim Tressel went out and filled some needs this recruiting period, starting with linebacker Curtis Grant, who was a surprise out-of-state commit. Dual-threat signal-caller Braxton Miller may be able to see the field in the fall with Terrelle Pryor suspended, while defensive end Steve Miller, cornerback Doran Grant and guard Michael Bennett are all top in-state gets. Tressel was also able to add two talented defenders out of Florida — outside linebacker Ryan Shazier and safety Jeremy Cash. Once again, the Buckeyes are the King of the Mountain in the Big Ten's recruiting rankings.
11. Tennessee: Derek Dooley did a fantastic job last season after Lane Kiffin bolted for USC, and the Vols head coach did another magnificent job this year — especially closing down the stretch. DeAnthony Arnett left the state of Michigan and Marlin Lane could be the most overlooked of the top national running backs. Quarterback Justin Worley was the Gatorade national player of the year and will give the team a talented backup to emerging star Tyler Bray. Former Miami commit Marcus Jackson is one of the best guards in the country while offensive tackle Antonio Richardson should be a standout as well. Outside linebacker Curt Maggitt, inside linebacker A.J. Johnson and safety Patrick Martin fill out an outstanding class that should have Vols fans excited.
12. Oregon: Chip Kelly certainly closed out National Signing Day with a bang, getting USC commit DeAnthony Thomas to flip his commitment and come to Eugene. The nation's top athlete will be just another toy for Kelly to use in his explosive, up-tempo offensive attack. He also has the ability to play corner. Fellow athlete Devon Blackmon also should find a role on offense, likely at receiver. The Ducks then went down to Florida to bring in receiver Tacoi Sumler, a 5-7, 157-pound dynamo who will do damage in space. Quarterback Jerrard Randall also will arrive from the Sunshine State, and the signal-caller was a big land for Kelly because the Ducks were in desperate need of a quarterback in this class with the ability to run a zone-read offense.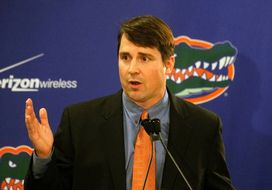 ICONWill Muschamp held his own during his first recruiting period at Florida.
13. Florida: Gators fans likely aren't celebrating today because they are used to a big late-period push, but Will Muschamp did a nice job of keeping this class together after the resignation of Urban Meyer. It was a top-10 class under Meyer, and although a few commits were lost, this group has tremendous offensive firepower. Quarterback Jeff Driskel will compete for the starting job immediately, as he is taking classes already in Gainesville. Receiver Ja'Juan Story and running back Mike Blakely will eventually emerge as his top weapons on offense. The secondary will get some much-needed help in the form of Jabari Gorman, a very physical safety, and defensive back Marcus Roberson, who was a surprise signing day snag.
14. Oklahoma: Bob Stoops may not have the deepest class, but it is still one of the more talented in the country — particularly at the skill positions. Receiver Trey Metoyer could be the next Ryan Broyles in terms of consistent production, while Danzel Williams could emerge as a future running back or corner. Brandon Williams, who possesses impressive size and speed, will keep the cupboard stacked in the backfield, as well. Meanwhile, Nathan Hughes and Jordan Wade are the stars of yet another strong defensive line class.
15. California: Jeff Tedford certainly knows how to win off the field. But when will the consistent winning program be built in Berkeley? Once again, the Bears closed well and keep bringing in talent along the defensive line that fits their system perfectly. In-state tackles Todd Barr and Viliami Moala are quick and physical, as the Bears rely on disruption from their front four. Safety Avery Walls is one of the better safeties in the country and could see the field early because of his instincts, while outside linebacker Jason Gibson is a pass rusher who fits well into Cal's 3-4 scheme. Receiver Maurice Harris is a big and physical prospect, and Brendon Bigelow could emerge as one of the best running backs in the country — if he can stay healthy.
10 more solid classes
16. North Carolina: The Tar Heels were able to woo Delvon Simmons away from USC and Oregon on signing day, and he joins fellow defensive linemen Devonte Brown and Norkeithus Otis, as well as linebacker Travis Hughes.
17. Nebraska: Florida offensive lineman Tyler Moore and Texas running back Aaron Green headline this balanced class, and Moore is the centerpiece of a five-man offensive line class that includes Zach Sterup, Ryan Klachko and Ryne Reeves.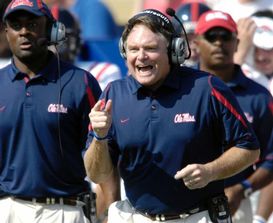 ICONHouston Nutt found some help for Ole Miss' woeful defense.
18. Mississippi: The Rebels were able to find some help for their awful defense, as linebackers C.J. Johnson and Serderius Bryant will bring explosiveness and depth to the position. Tobias Singleton and Donte Moncrief bring after-the-catch ability and a physical presence, respectively, to the receiver position.
19. South Carolina: If the Head Ball Coach is able to keep Jadeveon Clowney in-state, then the Gamecocks will unquestionably move up the rankings — both on this recruiting list and likely next season in the Top 25. He is that special of a player. But, for now, Steve Spurrier has assembled a solid, deep class, which features good speed and athleticism. The safety and linebacker spots were of importance here, and the Gamecocks filled those needs with safety Kadetrix Marcus, who could play at the team's hybrid position, and five solid outside linebacker recruits. Defensive tackle Kelcy Quarles was also brought in along with receiver Shamier Jeffery, who can make the tough catch like his brother Alshon.
20. Stanford: The departure of Jim Harbaugh definitely lost the Cardinal a couple of really good recruits, but new head coach David Shaw did a good job of keeping most of the class intact. The real question is how will the program fare in 2012? This class, however, is still deep with solid talent, led by James Vaughters, one of the best inside linebackers in the country, and safety Wayne Lyons, a prospect from Florida. The Cardinal also addressed a need at defensive end with Charlie Hopkins and Kevin Anderson.
21. Arkansas: The Razorbacks put together a really nice class coming off of their BCS appearance in the Sugar Bowl. Guards Mitch Smothers and Brey Cook are two of the best guards in the country, and Bobby Petrino also brought in two good tight ends, including local player Demetrius Dean. While the class is strong on offense, the Razorbacks signed several defensive linemen and cornerback Tevin Mitchel, a former Nebraska commit.
22. Washington: Steve Sarkisian was able to keep the state's top two prospects — receiver Kasen Williams and tight end/offensive tackle Austin Seferian-Jenki ns — at home. Meanwhile, receiver Josh Perkins has a nice combination of size and strength while quarterback Derrick Brown has gone under the radar a bit, but the signal-caller has a strong arm and can make plays with his feet.
23. Texas Tech: </strong>Tommy Tuberville delivered the Red Raiders their best class in program history. Jace Amaro could step right in at tight end, Kenny Williams is a top-20 national running back, Tony Morales joins brother Alfredo on the offensive line and Terrell Hartsfield is a mature linebacker.
24. Oklahoma State: Mike Gundy brought in a large class, led by running back Herschel Sims and quarterback J.W. Walsh. Sims is very good catching out of the backfield while Walsh has a quick trigger. Nico Ornelas is a nice outside linebacker prospect, while Josh Stewart and Miketavious Jones are really good corners who should a susceptible pass defense.
25. Virginia: Mike London outrecruited Frank Beamer this year, as the Cavaliers made their presence felt locally. Most of their top prospects either came from in-state or Maryland, and athletes Darius Jennings and Dominique Terrell were great signing-day gems. They could play on both sides of the ball and be a factor in the return game. Demetrious Nicholson and Brandon Phelps, meanwhile, are good cover corners, while defensive tackles David Dean and Vincent Croce lead a nice defensive line haul.
Email dave.miller@nationalfootballpost.com or follow me on Twitter at Miller_Dave
Want to work in the NFL? Click here to sign up for the NFP's "Chalk Talk at the Combine" Seminar February 25 in Indianapolis.