December 18, 2011 -
Barry Dorey
Recapping Saturday's bowl action
Here are some thoughts on the tripleheader of action that kicked off the 2011-12 bowl season on Saturday.
Temple beats Wyoming 37-15 in the New Mexico Bowl
First-year head coach Steve Addazio led Temple to its first bowl win since 1979 in a 37-15 blowout win over Wyoming in Albuquerque. Addazio wasn't very popular in Gainesville when Florida's offense struggled last year, but his Temple offense ranked No. 7 in the nation this fall. And it showed off on Saturday.
• Temple running back Bernard Pierce was held in check, all things considered, as he rushed for 99 yards and two touchdowns on 25 carries. I expected him to break off some bigger runs against a very poor Wyoming rush defense. However, watching him closely once again made it clear that he is ready for the NFL and could forego his final year of eligibility.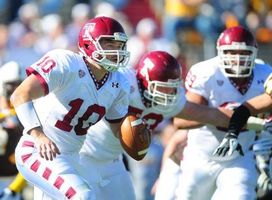 QB Chris Coyer was efficient for Temple as the Owls rolled over Wyoming.
• Owls quarterback Chris Coyer finished 8 of 12 for 169 yards, including a 61-yard touchdown pass that assured the Owls were in control of the game.
• Temple's defense was impressive. The unit played fast and physical, and it forced Wyoming quarterback Brett Smith into three interceptions. Smith also couldn't do a whole lot of damage with his legs. But the Cowboys have a very good future with the freshman running that "Missouri" offense. They just need some more playmakers surrounding their QB.
Ohio beats Utah State 24-23 in the Idaho Potato Bowl
Utah State once again found itself in a tight game. The Aggies finished the season with 5 wins by 7 points or less and 5 losses by 7 points or less. They fell on Saturday to Ohio on a last-second touchdown, losing 24-23 in the Idaho Potato Bowl in Boise, Idaho.
• Ohio quarterback Tyler Tettleton, facing an Aggies rush, connected with LaVon Brazill on a fourth-and-6 from the Utah State 14 with 37 seconds left to tie the game. However, officials declared that the football came loose near the goal line. So Tettleton found the end zone on the run two plays later to tie the game with 13 seconds left, and the extra point gave the Bobcats the deciding point. The most amazing part of the Brazill catch was the fact that he played through a torn meniscus and without having practiced leading up to the game. He caught eight passes for 108 yards in the contest.
• Utah State wasted another strong performance from running back Michael Smith, who recorded 156 yards and two touchdowns on only 12 carries, including a 63-yard touchdown to open the second half. The Aggies rushed for 342 yards in the game but still couldn't secure the victory.
Louisiana-Lafayette beats San Diego State 32-30 in the New Orleans Bowl
A wild game at the Superdome in New Orleans ended with Louisiana-Lafayette connecting on a game-winning 50-yard field goal as time expired to give Mark Hudspeth's Ragin' Cajuns a 32-30 victory over Rocky Long and San Diego State in a contest that featured a combined 905 passing yards.
• Colin Lockett had three touchdown catches, including what appeared to be the game-winning 12-yard grab with 35 seconds left to play, to help pace San Diego State's offense. Stud running back Ronnie Hillman, meanwhile, was stifled throughout the contest. He finished with just 55 yards on the ground as the Ragin' Cajuns held Hillman, who was averaging 138 yards per game, to a 2.3 yards per carry average for the game.
• After the Aztecs failed on their two-point conversion attempt following their final touchdown, ULL needed to drive down the field and get in field goal range. Quarterback Blaine Gautier took the team from its own 18 to the Aztecs' 43-yard line to set up a 55-yard game-winning field goal attempt. A penalty gave Brett Baer five extra yards to work with, which he didn't even need, and the kicker connected to send the Ragin' Cajuns to victory. Gautier, despite being knocked around all contest, threw for 469 yards and three touchdowns. Junior receiver Javone Lawson had 9 catches for 193 yards and 2 touchdowns, and sophomore Darryl Surgent stepped up, as well, as the receiver had a 56-yard fourth-quarter reception and an 87-yard punt return for a touchdown. He finished with 283 all-purpose yards.
• It was a program-changing win for ULL, which was expected to be a Sun Belt cellar-dweller this season yet finished 9-4 with a closing victory over a squad headed to the Big East.
Email dave.miller@nationalfootballpost.com or follow me on Twitter at Miller_Dave