May 05, 2012 -
Dave Miller
Recruit's father: 'Something's just not right at Ohio State'
Class of 2013 recruit Alex Anzalone has rescinded his commitment to Ohio State less than two weeks after telling head coach Urban Meyer and his staff that he planned to become a Buckeye.
The highly touted linebacker decommitted Friday afternoon following the news that an Ohio State fan who interacted with players and recruits is actually a convicted sex offender in the state of Kentucky. The offender, Charles Eric Waugh, has repeatedly conversed with the players both personally and through social media such as Twitter.
Ohio State's compliance director Doug Archie warned Buckeye student-athletes Thursday about Waugh and directed them to block his text and Twitter messages.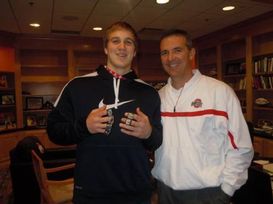 Alex Anzalone, pictured in Urban Meyer's office, will not attend Ohio State.
Anzalone was one of the players contacted by Waugh during a visit to Columbus on April 21. Anzalone's father, who along with his son spoke to Buckeyes assistant Luke Fickell to express their concerns and to eventually decommit, didn't hold back when discussing his son's change of plans.
"There's a disconnect between what Alex thought was was there [at Ohio State] and what is actually there," Dr. Sal Anzalone said. "Something's just not right at Ohio State. It's not for him."
"You don't want your son to go to a place where there's a potential issue [like this]," Sal Anzalone said. "You expect the staff to have some sort of control on how things are handled with recruits when they visit. This is ridiculous.
"I was concerned with what recruits do, and with them being allowed to visit these kind of places where it puts kids at risk. That's the issue. You entrust people [at OSU] to do the right thing."
The 6-3, 220-pound Anzalone, from Wyomissing High School (Wyomissing, PA), had received offers from a variety of major schools. Florida and Stanford were also at the top of his list when he originally chose Ohio State. USC, Penn State and Notre Dame were also in the mix.
"I had to make a decision that's best for me, and for my family," Anzalone said. "There's a reason behind it. I don't want to get into it; I don't want to hurt anyone.
"We've been talking about it for a week or so with my family. I need to re-evaluate things right now, slow everything down."
The question now is whether the comments by Anzalone's father affects Ohio State's recruiting efforts moving forward.
As Brooks from the SportsByBrooks website pointed out on Twitter late Friday night, OSU could have a strong case for defamation if recruits start backing out of their commitments to the school. He suggests that Anzalone's father made damaging statements that went too far because his son wasn't actually "at risk."
This situation certainly bears watching for a variety of reasons, but the social media aspect underscores just how uncomfortable the world of recruiting can become at the major college level.
Email dave.miller@nationalfootballpost.com or follow me on Twitter at Miller_Dave