November 04, 2010 -
Dave Miller
Report: Auburn QB Cam Newton was offered for cash
As the great CBS announcer Verne Lundquist likes to say, "Oh, my goodness!"
According to an ESPN.com report, a man saying he represented Auburn quarterback Cam Newton during his recruitment out of Blinn College last year allegedly was soliciting a six-figure payment in exchange for the signal caller's signature on a national letter-of-intent.
Former Mississippi State quarterback John Bond told ESPN.com that Kenny Rogers, a former teammate of his at Mississippi State in the early 1980s, contacted him after Newton's official visit to the Starkville campus last December, saying he was representing Newton.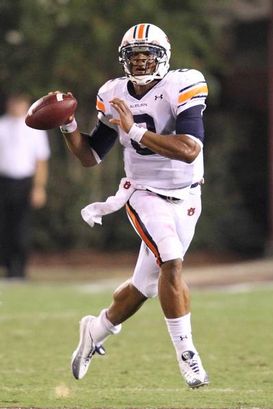 ICONAuburn QB Cam Newton
"He said it would take some cash to get Cam," Bond said. "I called our athletic director, Greg Byrne, and he took it from there. That was pretty much it." According to the report, Mississippi State called the SEC office with Bond's information shortly after he brought it to the attention of the school.
Bond said that Rogers told him other schools had offered as much as $200,000, but that since Newton already had a relationship with Bulldogs head coach Dan Mullen and he liked the program, the team could get him for $180,000.
"I have no agenda other than protecting Mississippi State," Bond said. "We've done what we were supposed to do from the very beginning. Mississippi State has done nothing wrong, and I've done nothing wrong. It's been handed off to the NCAA, and it's in their hands now. I don't know what happened at Auburn. I don't know why he went to Auburn. That's not my concern. My concern is Mississippi State and making sure this doesn't cause us any trouble."
When reached by ESPN.com on Thursday, Cecil Newton, Cam's father, denied any wrongdoing.
"If Rogers tried to solicit money from Mississippi State, he did it on his own, without our knowledge," Newton said.
Cecil Newton said the family received a letter from the NCAA "about a month ago" asking for financial records and said he submitted information for the church where he is pastor, along with other records. NCAA officials, meanwhile, declined comment on the allegation involving Newton.
SEC associate commissioner Greg Sankey said the league received "specific information" regarding the Newton allegation in late July of this year. He would not directly comment on whether the league office considers this an ongoing issue or a closed case.
Newton, who has led the Tigers to a 9-0 record and No. 2 ranking in the BCS standings, publicly committed to Auburn on Dec. 31, 2009. He is considered the frontrunner in the Heisman Trophy race and has thrown for 1,573 yards and 15 TDs while rushing for 1,122 yards and 14 scores on the year.
Email dave.miller@nationalfootballpost.com or follow me on Twitter at Miller_Dave