November 09, 2010 -
Dave Miller
Report: FBI to get involved in Cam Newton investigation
You thought the Cam Newton (non)case couldn't get any crazier?
Think again.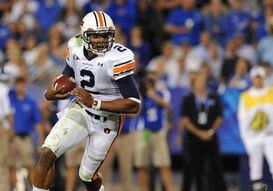 ICONAuburn QB Cam Newton is dealing with a swirl of off-the-field drama.
Now the FBI is getting involved, according to a report from TMZ.com, as the feds apparently want to speak with John Bond, the former Mississippi State quarterback who claimed last week that former teammate Kenneth Rogers was shopping around the services of the Auburn dual-threat signal caller while he was still in junior college.
In multiple reports last week, Bond claimed Rogers said it would take $180,000 to get Newton to commit to the program in Starkville.
According to the TMZ Sports report, the FBI wants to talk to Bond in an effort to find out if "young men are being shopped to colleges." Bond's attorney confirmed to the website that the FBI has requested a sit-down meeting with his client.
Newton and his father have denied any wrongdoing, while the administration at Auburn — including head coach Gene Chizik — has stated that Newton's eligibility for the Tigers is not in question.
The news of the FBI getting involved comes on the heels of a report last night that Newton was involved in three separate instances of academic cheating while at Florida. While that report has nothing to do with the ongoing recruiting probe, Newton found himself fielding more questions about his past on Tuesday.
And with the report now of the FBI's involvement — even if Newton isn't directly involved — it's likely that he will have to deal with even more queries now as the Tigers attempt to win a national championship.
Email dave.miller@nationalfootballpost.com or follow me on Twitter at Miller_Dave