February 10, 2011 -
Dave Miller
Report: J-Cut and K-Cav to get engaged soon
The next time Jay Cutler has a bad day at the office, he may have a wife to come home to for comfort.
Because according to a post on the Chicago Sun-Times website on Wednesday, the Chicago Bears quarterback's relationship with his reality TV star girlfriend Kristin Cavallari is escalating to potential long-term status.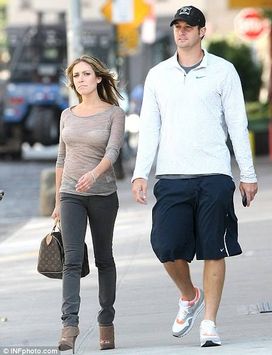 Kristin Cavallari and Jay Cutler could be taking their relationship to the next level.
Bill Zwecker writes that the couple's romance, which we just learned last night was a product of Giuliana Rancic's making, has become very serious and that they will soon announce their engagement after already partaking in ring shopping, according to the report.
Cutler, of course, took an incredible amount of heat for not being able to finish the NFC Championship game against the Green Bay Packers a few weeks back. An MRI the next day revealed a Grade II MCL tear in one of his knees.
Despite the noted injury, the 27-year-old former Denver Bronco continued to get blasted for a TMZ.com video that showed him in Beverly Hills shopping with the 24-year-old former star of The Hills and seemingly not appearing injured.
While Cutler and Cavallari are certainly a high-profile couple, their relationship has been unusually low-key and away from the Hollywood spotlight for the most part. Of course, things can change with this impending announcement.
In reality, the pair seem to make a good fit, as K-Cav repeatedly has said that she loves Chicago, as it helps keep her away from the public eye, and her mother also resides in the Chicagoland area.
Follow the Daily Jolt on Twitter: Daily_Jolt
The Daily Jolt is a section of the National Football Post that serves as a one-stop shop for all things football, sports, pop culture, everyday life and more.
The section's editor, Dave Miller, also writes the Against the Grain college football column for the NFP. When he isn't putting coaches on the hot seat, he can often be found daydreaming of being the future Mr. Kara DioGuardi. You can follow him on Twitter at Miller_Dave.