July 13, 2011 -
Barry Dorey
Report: NCAA continues to investigate Auburn
Auburn fans can't rest easy just yet.
The NCAA is still in the football program's backyard.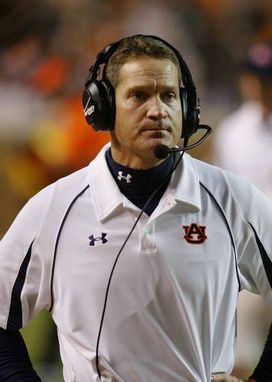 ICONGene Chizik's Auburn program remains under NCAA investigation.
According to a report in the New York Times, the governing body's probe into the recruitment of Heisman Trophy winner Cam Newton has not ended, as head coach Gene Chizik found out at an annual gathering of athletic officials from the SEC last month in Destin, Fla.
When NCAA vice president of enforcement Julie Roe Lach finished her presentation to the group comprised of every men's basketball coach, football coach and athletic director in the conference, she opened up the floor for questions. It was then that Chizik reportedly asked Roe Lach a series of questions about the investigation into Newton and why the governing body had not publicly announced that the investigation was over. The head coach complained that the inquiry was hurting Auburn's recruiting.
"You'll know when we're finished," Roe Lach said, according to several coaches. "And we're not finished." That response ended a rather heated exchange.
Auburn, the NCAA and the SEC declined to comment on the back and forth between Chizik and Roe Lach.
Last year, the NCAA and Auburn acknowledged that Newton's father, Cecil, had offered his son's services to Mississippi State for $180,000. Cam Newton maintained that he had no knowledge of the proposed transaction.
The NCAA did rule that there was no evidence Cam Newton or Auburn knew about Cecil Newton's pay-for-play scheme, so neither was punished.
While it's never a good thing that an investigation drags on, the ongoing probe isn't the most noteworthy aspect of this report. The fact that this exchange occurred at all is newsworthy because the NCAA typically puts up a strong front in not commenting about ongoing investigations, and verbal jousts such as the one that occurred between Chizik and Roe Lach rarely if ever happen in a public forum.
Email dave.miller@nationalfootballpost.com or follow me on Twitter at Miller_Dave