August 10, 2011 -
Dave Miller
Report: NCAA not done investigating Ohio State
Despite being notified by the NCAA in mid-July that the school would not face failure to monitor charges at its hearing Friday with the NCAA Committee on Infractions, Ohio State is not quite out of the woods just yet.
According to ESPN.com's Pat Forde, the NCAA sent a letter to the school last week stating that it is still investigating other issues involving the football program. Thus, a second notice of allegations and subsequent meeting with the COI could be forthcoming.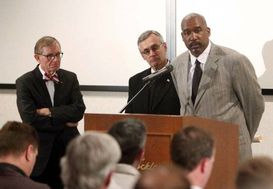 The drama isn't over quite yet at Ohio State.
When the Buckeyes were told less than a month ago that there would be no additional allegations beyond what they were charged with on April 25 when they received their notice, many believed that OSU would escape this chaos with just a reduction of a few scholarships in addition to the self-imposed sanctions -- and, of course, the loss of its head coach and star quarterback. Now, the school's problems within its football program may not be over with the NCAA's enforcement department still working.
Of course, after that notice was sent out several reports emerged of potential improprieties within the program, notably the relationship that former quarterback Terrelle Pryor had with local memorabilia collector and photographer Dennis Talbott. Could those reports be at the center of this ongoing enforcement investigation?
On Wednesday, athletic director Gene Smith told the Associated Press that the NCAA investigation has cost the school's athletic department about $800,000 up to this point.
Email dave.miller@nationalfootballpost.com or follow me on Twitter at Miller_Dave