November 09, 2010 -
Dave Miller
Report: Newton faced possible expulsion upon leaving Florida
It turns out Tim Tebow's decision to remain for his senior season wasn't the reason Cam Newton decided to leave Florida. In an interview with Sports Illustrated last month, the Auburn quarterback and his father cited being stuck behind the Denver Broncos rookie as the reason the dual-threat signal caller left Gainesville.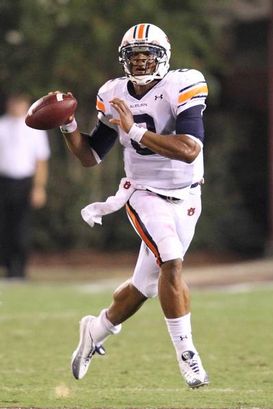 ICONQB Cam Newton has led Auburn to an undefeated mark thus far.
But according to a report from FOXSports.com writer Thayer Evans, Newton was involved in three different instances of academic cheating while at Florida and faced potential expulsion from the university.
Newton, who reportedly wasn't even enrolled at Florida for the spring semester of 2009 when he decided to transfer, first violated Florida's student honor code by cheating in a class while he was a freshman in 2007, according to the report. He again violated the honor code by putting his name on another student's paper and turning it in. Newton subsequently turned in a second paper to the teacher, but it was discovered to be an Internet purchase.
Newton was scheduled for a hearing in front of Florida's Student Conduct Committee during the spring semester of 2009, but he instead left for Blinn College in Texas. The report states that the committee could have applied sanctions against Newton that included suspension and expulsion.
Up until this point, the only known trouble Newton had at Florida was his November 2008 arrest after purchasing a stolen computer. Those charges, of course, were dropped last December when he completed a pretrial intervention program for first-time offenders.
The frontrunner for the Heisman Trophy, Newton has been dealing with his share of off the field drama after former Mississippi State quarterback John Bond accused former Bulldogs teammate Kenneth Rogers of seeking $180,000 for Newton to attend Mississippi State. According to reports, Rogers allegedly told Bond that other schools had already offered $200,000. The NCAA continues to investigate that matter while the Newtons and Rogers have denied the allegations.
Auburn has stated that Newton is eligible, saying the school has not found any issues with his eligibility. The issue is not a closed matter, however.
While this report of academic cheating has nothing to do with the ongoing investigation involving Newton's recruitment while he was at junior college, it likely doesn't help the public perception of the Auburn signal caller, who threw for a career-high 317 yards and four touchdowns against Chattanooga on Saturday. After the game, Newton once again professed his innocence.
"I haven't done anything wrong," Newton said. "I'm an Auburn athlete, and I'm still playing for Auburn. I love Auburn, and that's all I've got to say."
The Tigers are undefeated and currently No. 2 in the BCS standings. Newton has thrown for 1,890 yards and 19 touchdowns while leading the SEC in rushing with 1,146 yards and 15 scores.
Email dave.miller@nationalfootballpost.com or follow me on Twitter at Miller_Dave